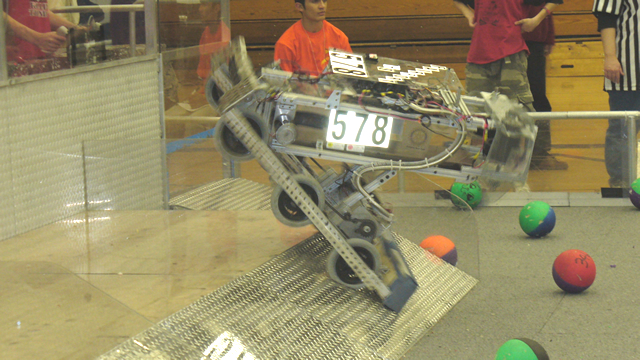 It hasn't happened untill the last match we were in at the ruckus XD
I love this picture!! You guys were so close to recovering! Then I felt bad because it got pushed around a lot.

are you snapping in half!!! ouch…
I guess there was more than one tipping robot at Ruckus. Hope your damage wasn't bad.
lol yea dan, 1930 got lucky a couple times…
are those pneumatic tires cause the one looks ver compacted?
I think it still works, we haven't done much to check the damage because we were in a rush to feed the hungry team members right after the event. Kate gleason 3 also survived one of the rainest 4th of july parade http://www.fairportfirst.com/images/DSCN6085.JPG and was driven through out the entire 5 mile parade route with out shorting out suprisingly. It was pure luck that prevented this soaked robot from shorting out.
BTW this is part 2 to that picture above http://www.fairportfirst.com/images/2007/ruckus43.jpg