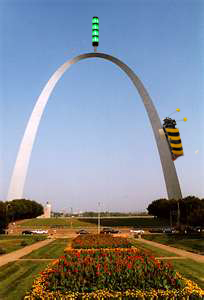 Team 33 has been doing a lot of testing on our minibot design this past week.
That is hilarious.
I hope that it triggers the tower. I have one thing you may be concerned about however. It looks like your minibot is almost 170 ft. long.



Now that's funny!
Just wait until you see the main robot…
That's outside the 12x12x12 limit, but otherwise a really cool design. Question: I see it has wings. Can it fly?
is this st. louis' version of king kong?
Kudos to the Photoshop job there. All in all, it is pretty hilarious.
I foresee future minibot usage by the GDC… but is the arch going to travel to all those regionals next year?
Photoshop credit goes to our founding mentor, graphics guru and Duke of Duct-tape, Tim Grogan. He is the master of our Killer Bee graphics on the robot and the marketing of our image. Feel free to compliment him in person (he'll mostly be found in our Archimedes pits at St. Louis)!
finally a good use for a 2nd battery pack!
Will this be in use before or after our Wednesday tour of the Arch? I have a fear of bus-sized bees.
For those of you who haven't seen the arch in person, you're in for a treat. TV shows and photos don't do it justice. Standing next to it and looking up thinking about the how the people built it in 60s is just amazing.
It was amazing following the build. My brother kept a scrapbook that followed its progress. It makes me think there are many such forgotten scrapbooks stored away in the St. Louis area. I hope everyone takes the time to tour the arch and learn about its history.
Jane
hmmm…so is the minibot going to stop at the top or continue to the other side?
That depends on the limit switch …:rolleyes:
(an accelerometer would be better, but not allowed per <R92>)
In one of the theaters under the Arch, you can see a short film called "Monument to the Dream"](http://www.youtube.com/watch?v=ZNylmV016eY) that documents the construction. Well worth the time. Better than the ride to the top, IMHO.
Where is the FB like button for this image:cool:
I hope the "mini" bot is using something other than magnets for traction. The skin of the arch is stainless steel, I'm told. Also the FAA will have something to say about those green lights.