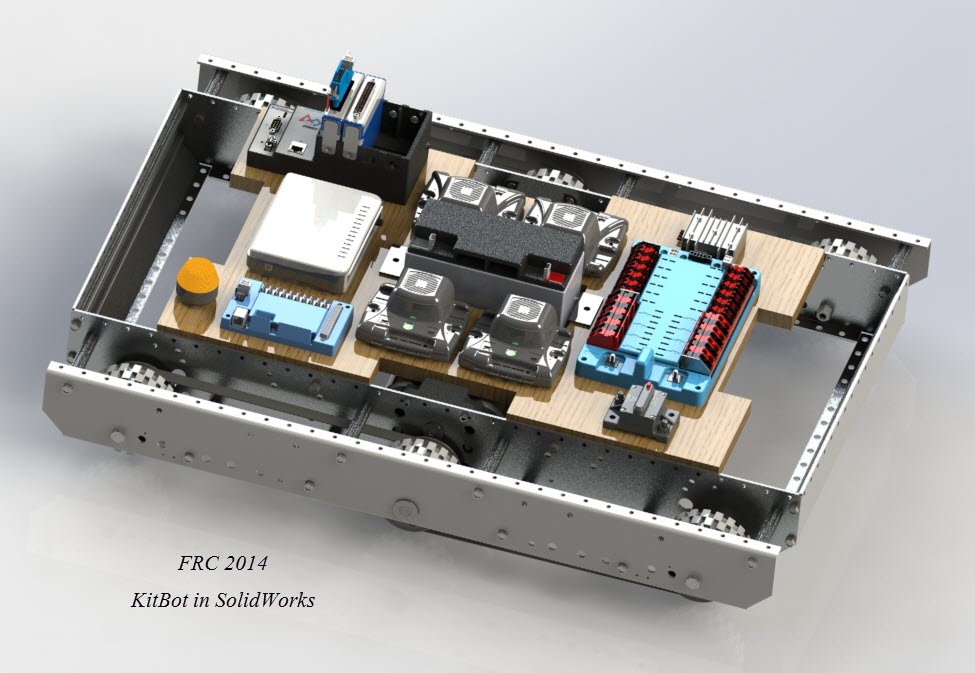 KitBot in SolidWorks. Long and Wide Models Available at
www.solidworks.com/FIRST
. Includes Control Components and Kit of Parts
If you have questions about these assemblies or the SolidWorks Kit of Parts let me know and I will try to help Marie
Could you possibly look into providing STEP files for the 2014 KOP? My team is stuck mostly using earlier versions of Solidworks and it appears that the 2014 KOP files only work on the latest version.
Can you apply for sponsorship? We can get you software quickly.
We are working on the STEP format now at 3DContentCentral.com. Many of the parts are up there. This will take some time.
What is critical? Marie
Our team is already sponsored and while we did receive copies of the latest version of Solidworks, our teacher is limiting the upgrade to students who want to install it on their own computers at home. I am just looking for the quickest way to get the KOP files working on our computers in class, which have 2011 on them. It looks like Autodesk has STEP versions of the KOP released, so I'll probably get those downloaded and if there are any parts that don't work out or are missing I'll search on 3DContentCentral.com.
So no problem really.
That's a really nice render of the kitbot btw.

The step files are available on the AndyMark site.
We didn't have access to this before kick off. Does First usually produce models of the field. If not I would check to see if one of the other cad vendors posted the field in Step format if you need something today.
From step you will want to create the base (floor) as a SOLIDWORKS part. It will be easier to use advanced SolidWorks mates such as Width Symmetry and Path. These are three jewels in robot movement that are underutilized.
We will investigate getting a field modeled but our priority is game pieces then step files of KitBot and the electrical kit of parts. Marie
I give all the credit to TJ Watson of WPI. He has done amazing work on the mechanical kop. AndyMark helped get us started with the SolidWorks models too. All I did was use Photoview 360. It makes me look good!
They usually are released in Inventor or CRIO format (I know, ew, right???

)
Any standard model that you don't have to create is a good model. This is a great "best practice" method. We worked with First to create a great kop. They have been super. I just didn't think we needed to create a field. Luckily others have.
Now we can concentrate on the mechanical and electrical engineering side of cad. More fun.
This is absolutely wonderful! Our team has been SolidWorks users since day 1 and it always hurt having to hunt around for the KOP parts, or using STEP files to get our KOP parts after previous Kickoffs. Thank you!
You're welcome. Let us know what you need to make the kop better. Marie
I believe the reason your teacher is limiting the upgrade to student-owned machines is that he/she is (correctly, and admirably) playing by the rules. The terms of the license SW gives as part of team sponsorship are "Student" licenses, which can only be used on machines personally owned by team members, NOT school-owned machines. The school's machines are probably covered under an "Educational" license, purchased by the school, from a SW reseller.
Ah. Thanks for the explanation.
Something you could try is buying an external USB hard drive (ideally USB 3.0 if the computers support it), and installing Windows and Solidworks on that.
Looks awesome! I am installing the newest version of Solidworks now, can't wait to check it out!
I'm uploading all the files to 3D Content Central now, they should be up soon, including the STEP files!
How can we find/search for the pertinent 2014FRC files on 3DCentral.com? Tags, contributor's name …?
I'll be uploading them, so you can search for me or you can use the tag 2014kop.
Hope that helps, I'm trying to upload more files now, but I think I may have broke the 3DCC server… which is hilarious…:rolleyes: