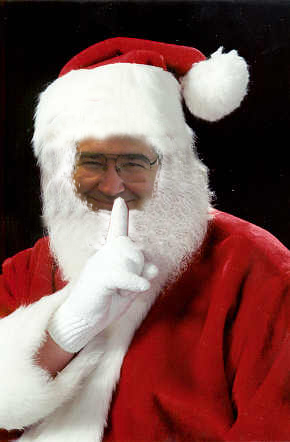 What do all the good little FIRSTers want from Lavery Claus this year?
I want a model train-set!
I knew IT!!!. i have been telling you guys ever since 2003. "Dave Can we This? Can we have that?" how else could this picture be so magical?
Dear Santa Lavery,
All I want for Christmas is…a drill press, a vertical mill, a lathe and oh, oh, a full corporate sponsorship for our team!

But Santa, if you can't provide that, it will be O.K.
The joy of the Christmas season is already more than enough!
jumps on santas lap
i want a couple andymark trannies and some IFI traction wheels
ive been a good boy i havent bearhugged anyone this year (except for kressly… and copioli but copioli started it :-p)
Of course he is! Just like the Easter Lavery and the Tooth Lavery!

<sigh> A lump of coal just won't do it any more. I'm gonna give you all negative rep points in your stockings for Christmas…
:ahh:
The tooth-lavery is much more PC.
The night before Kickoff
A parody of "The Night before Christmas" by Clement Clarke Moore
'Twas the night before Kickoff, when all through the house
not a FIRSTer was stirring, not even a mouse.
The wrenches were hung by the robot with care,
in hopes that St. Lavery soon would be there.
The mentors were nestled all snug in their beds,
while dreams of the Beast scored in their heads.
And Mentors in their team shirts, and I in my FIRST cap,
had just settled our brains for a pre-kickoff nap.
When out on the roof there arose such a clatter,
I sprang from my bed to see what was the matter.
Away to the window I flew like an AndyMark,
tore open the shutter, and looked out into the dark.
The moon on the breast of the new-fallen snow
gave the lustre of midday to tetras below,
when, what to my wondering eyes should enter,
but a 'way and eight prominent CD posters.
With a little old driver, so lively and spry
I knew in a moment it must be St. Lavery.
More rapid than Ship date, his coursers they came,
and he whistled and shouted and called them by name:
"Now Martus! Now Morrison!
Now, Leung and Leverette!
On, Baker! On, Neun!
On, Clock and Kangasbapathy!
To the top of the bar!
To the top of the ramp!
Now dash away! Dash away!
Dash away all!"
As old clovers that before 2006 game fly,
when they meet with an tetra, mount to the sky
so up to the house-top the coursers they flew,
with the sleigh full of hints, and St. Lavery too.
And then, in a twinkling, I heard on the roof
the prancing and pawing of each little hoof.
As I drew in my head and was turning around,
down the chimney St. Lavery came with a bound.
He was dressed all in hawaiin print, from his head to his foot,
and his clothes were all tarnished with magic smoke and soot.
A bundle of aluminum he was holding on his mitt ,
and he looked like a rookie just opening his Kit.
His eyes–how they twinkled! His dimples, how merry!
His cheeks were like roses, his nose like a cherry!
His droll little mouth was drawn up like a bow,
and the beard on his chin was as white as the snow.
The stump of a baton he held tight in his teeth,
and the mystery of it encircled his head like a wreath.
He was photoshopped just right, a right jolly old elf,
and I laughed when I saw him, in spite of myself.
A wink of his eye and a twist of his head
soon gave me to know I had nothing dread.*
He spoke lots of hints, but went straight to his work,
and filled all the kits, then turned with a jerk.
And laying his finger aside of his nose,
and giving a nod, up the chimney he rose.
He sprang to his segway, to his team gave a whistle,
And away they all flew like the down of a thistle.
But I heard him exclaim, 'ere he drove out of sight,
"Happy Kickoff to all, and to all a good night!"
*Well, except maybe negative rep… :yikes:
[EDIT]
I made Lavery Claus' vehicle of choice a Segway.
I was inspired by this post

Oh my gosh! Lavery Claus!!!
For christmas I want… something special. Since you are Santa you know what every little boy and girl wants.
Also notice that I didnt make the naughty list once this year

You might want to check the list three times this year thought, twice isnt always enough.
i love the photo and the nite before kickoff story…hee hee…
all i want for christmas…is more clues for the new game…
Ahem…
(Didn't Corey take a picture of the event?)
Dear Santa Lavery,
I've tried really hard to be a good girl lately and I only opened a few CD cans of worms this year.
For Christmas I would like someone to let me drive a robot… just once. And someone else to explain in NEM terms how it works… And a Segway would be nice, too. And a Vex kit. And more than anything else I wish for more time, Santa.
I promise to leave you some Krispy Kremes and Mountain Dew, and while you're at my house you can recharge your segway-sleigh batteries to continue your trip. Please come to my house, Santa!
You know a lump of coal isn't so bad. With the high oil prices and current exchange rate I'd come out on top with a lump of coal!

---
"Dear Lavery Claus,
My name is Jason and I've been good all year…or so I've been told.

Here is my Christmas List,
space shuttle
space station
mars rover
my own planet (if this is too short of notice how about my own island instead?)
space trip to moon
Hubble telescope model
and how about a FIRST competion on Mars? I think this would solve all the complaints you've been hearing all year about robots being overweight.
Just out of curiosity, what kind of vehicle does Santa Lavery use? I mean, does he hitch up 8 reindeer to one Segway or something?
I'm really at a loss on this one…
An interplanetary vehicle? Maybe a Mars cycler?