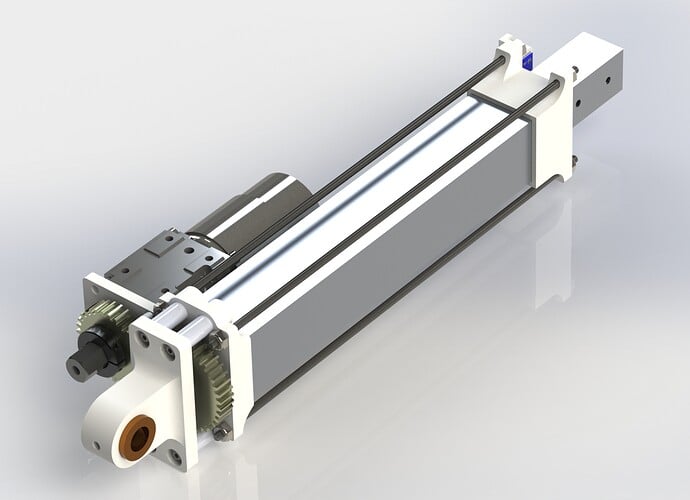 See thread for description. tl;dr is that it's a 3D printable cheap linear actuator.
LIN-101 is a fairly complicated attempt to make a COTS + 3D printer linear actuator. There are no machined parts on this; a hacksaw, drill press, and 3D printer are all that's needed. A 1/4"-20 tap would be good too, but moving the pivot further out would allow for the use of a shaft collar instead.
Total cost including all hardware is about $60-80, but that's assuming you're buying 100-packs of screws off McMaster (and thus could make 10+ of these for <$30 a pop after the initial investment). This would take ~11 hours to print on an Ultimaker or 2x that on a Makerbot. There are a couple of difficult to print features, but nothing that can't be cleaned up with a drill bit and a file.
The free speed on a 1:1 Versaplanetary off a 775pro and the 30:40 gear reduction is ~19in/s. Assuming an efficiency of 50%, this can handle a 40lb thrust load at 20 amps. Belts, chains, or some other gears can be used as well. There are two versions of the VP mount piece; one that has slots for tensioning and one with just bare holes.
I'm confident in this being able to sustain at least 40-50lbs thrust force. Side loads are taken up by a 2.5" 3-D printed shell braced against the inside of the tube, and needs to be tested for strength (probably more than 50ft-lbs on that). The sketchiest parts of this are the coil spring pins used to secure the nut inside the 1x1 Versaframe actuator and the cross-screws used to couple the leadscrew to the hex shaft. Both of those need to be load tested and tested to see how hard they are to machine.
A WCP hall effect sensor can be placed on the output to provide zeroing capabilities.
The base length of this is about 1" longer than the AM DART. This means that where the DART is 11" long for a 6" stroke, this is 12" long for a 6" stroke. However, this is fully modular; stroke length can be adjusted by changing out the Versaframe actuator, the leadscrew, and the 4 8-32 threaded rods that tie this together. There could be ways to shorten the base length, but ATM I can't think of a way to do it without making more machining necessary.
CAD is available here:
https://workbench.grabcad.com/workbench/projects/gc8mrFALmKICo4R9VHLXRcuk-mX7BOz2JCA6ISgFtmNUQy#/space/gcSTdRRbtyPVJLJ_9o0kq0T2DyGoJ3GMIQSQ0z1UVX5D8O
The LIN-101/Release folder has finished parts. The .STEP is a generic STEP file, the zip folder is a pack&go, and the .STLs are for direct printing (not recommended).
I printed one of the acme nut holders today and will be tweaking dimensions a bit based on my results.