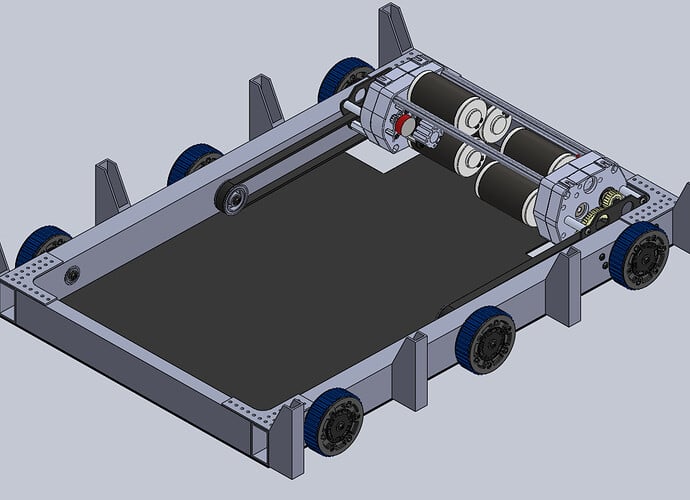 Our team is looking to move to a WCD drivebase next year (after 5 years of using the KoP drivebase) and plan to prototype one in the offseason.
Some details:
[LIST][]5mm HTD belt drive using 30T pulleys. Back run is on inside of chassis, front run is inside tube.
[]2.5" x 1.5" x .125" side rails. Fits 30T pulleys with a 1/16" raise for front/back wheels and 1/16" drop for center wheels.
[]Vex 3CIM Ballshifter attached with through bolts and in-tube nylon spacers
[]4" Vex Traction Wheels
[]Welded chassis design, though may use 221's Chassis Tube Connectors as well (don't know the pitfalls of a welded chassis yet)
[]Direct C-C belt run with .002" center add
[*]Riveted bellypan, possibly Delrin
[/LIST]
We have liked the KoP drivebase but want to move to something a little more flexible. We are used to bullet proof drivetrains though (thanks AM!), so I wanted to make this as maintenance free and robust as possible.
I wanted to stick with belts for lack of maintenance, but was worried about the large cantilever that running two 15mm belts inside the chassis would require. So I ended up running one inside the chassis, and one inside the tube and out of the way.
This thread, and others, led me to go for 15mm if I wanted to be bulletproof.
I considered VersaBlocks, but I didn't like the need for the cam when I never intend to adjust tension. VBs without the cam means relying solely on friction to hold them in place, which doesn't fit the bulletproof requirement; so it was press-fit bearings into the tube.
Now for some questions:
[LIST][]How safe is it to run bearings in 1/8" tube wall in heavy defense games? I have seen problems with 1/16th" wall, but I'm not sure about 1/8"?
[]Will my bumper mounts be sturdy enough if welded? I have seen a lot of designs that have a top bar connecting each mount, though I don't know how much resilience that adds.
[]Are nylon spacers inside the tube appropriate for attaching the gearbox to the rails? Would just having the bolts run through the inner tubing wall work better?
[]Is 2 thou center add reasonable for a drivetrain? I have heard of people going without a center add, but I'm used to preloading.
[*]How big should washers be on the end of my shaft to hold the wheels on? I am thinking mine are a little undersized.
[/LIST]
Any other comments or suggestions are definitely welcome! I would like to get some solid feedback before we start machining.
CAD available here
Also, my second link is messed up

Here are the other pictures.