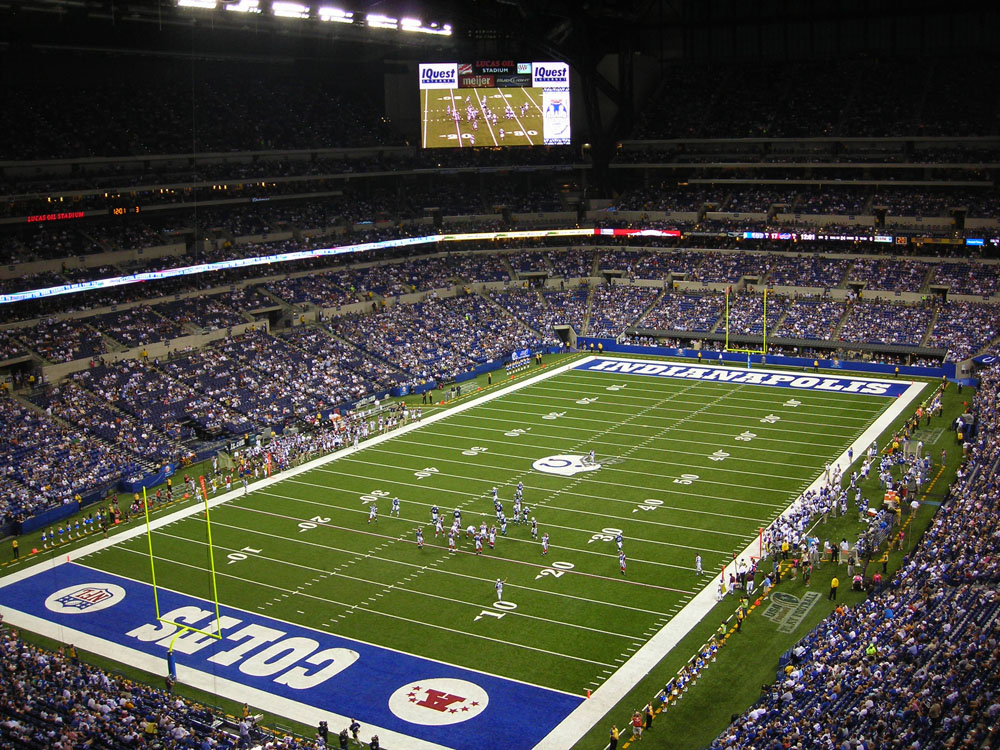 1st Colts game at Lucas Oil Stadium. Site of the 2012 Superbowl and hopefully the 2011 FIRST Championship.
This would make an awesome site to hold the Championship event. ;)

It would be awesome.
I can't wait.
Would it be at the Lucas Oil Stadium or the "new" Convention Center [read: the RCA Dome (read: the Hoosier Dome)]?
Either way, I'm going.
Now if only we can get Dean Kamen and the FIRST Headquarters to move to Noblesville, I'll go to Kickoff too.
Stupid stadium…I must admit, having championships there would make up for the wasted money…
It would be in Lucas Oil. The RCA Dome (that's what I still call it) is going to be tore down to expand the all ready existing convention center. I am probably different though because i would absolutely hate for the championships to be in Indy. That just takes one less chance to get out of state for me!!!
I leave Inidiana for 7 years and you guys tear down the RCA dome? What is the world coming to. Actually I am not a NFL fan so it is probably more like my head was in a vacuum. Not to mention SE Michigan seems to block Purdue and Colts football.
So how many years have I been in the dark (i.e. when did the Lucas Oil Stadium open)?
It opened on August 14th, 2008. So you haven't been in the dark for that long.
Hoosier Dome is still there (I refuse to call it the RCA dome because of how Thompson screwed Indiana) Demolition is just starting. It will be removed for the expansion of the convention center.
LOS opened this weekend, this was the first Colts game there.
I hated calling it the RCA dome also. My conference once rented the Hoosier dome for us to play football on every team in the coference was playing another team in the conference. It was awesome.
How long are we at the GA Dome for?
I feel so out of the loop of Indy now that I'm living in Champaign for college… it's so wierd to hear about news from my hometown at length!
That would be so totally awesome for FIRST to have championships there in indy… it's really set up well for it… I'd even venture to say better than Atlanta.
Examples… there's no big hill between your hotel and the championship to roll toolboxes up and back down, everything is even closer together, there's plenty of lodging and food available, even a few local downtown machine shops if the need arises. Also, your favorite industrial supply companies (Enco, McMaster, etc.) have next-day service to Indianapolis even when shipping UPS Ground. Also, for the FIRST Finale, white river state park should be big enough to house it. For entertainment theres a great state museum and one of the largest children's museums around (yes, it's a children's museum, but… who isn't young at heart.) as well as an Imax theater.
-q
p.s. Have they used the convertible roof yet?
Wow nice joint, how many does it hold?
Let me know when some worth seeing shows there… like Metallica

So they tearing down the RCA Dome… bummer.
We've something similar going on here in Greensboro.
They built a new ballpark downtown and now the city wants to tear down the old ball park which is a landmark, and the oldest double A ball park in the USA.
-p:cool:
2011? That should give me enough time to learn how to spell Indianapolis…
maps.live.com really should update their photos. The aerial view barely has any seating, and the "Bird's Eye"](http://maps.live.com/default.aspx?v=2&FORM=LMLTCC&cp=qmt0g07tkqcr&style=b&lvl=1&tilt=-90&dir=0&alt=-1000&scene=6758653&phx=0&phy=0&phscl=1&encType=1) view only has a couple of walls for the new stadium. I was wondering how you got an interior photo of an incomplete building?
Important question: How close would the pits be?
Okay - I'm sold!

And Amtrak is right there - too bad it takes a day-and-a-half from Boston.
Why is everything so blue?

Depends on how FIRST grows and how they would like things laid out. The floor of LOS is much bigger than the Georgia Dome and there is 43,000 square feet of extra hall space in LOS. The entire FRC event could be held in LOS.
It also depends on how the fields would be laid out and how many seats would be retracted.
You can see in this pick how the convention center expansion will be connected to LOS by an underground tunnel.
http://i18.photobucket.com/albums/b109/scott4020/fp08_ICCLOS.gif
This will be very convenient for Midwest teams.
…Which is why I propose we hold the championship in Las Vegas

If they would hold the FRC championships there good luck actually being able to stay there. The LOS was supposed to host the Drum Corps International World Championships there on August 9th. They moved it to Indiana Memorial Stadium in Bloomington. I was not happy. I really wanted to go see LOS.
Joey
Getting the place ready for the Colts took priority.