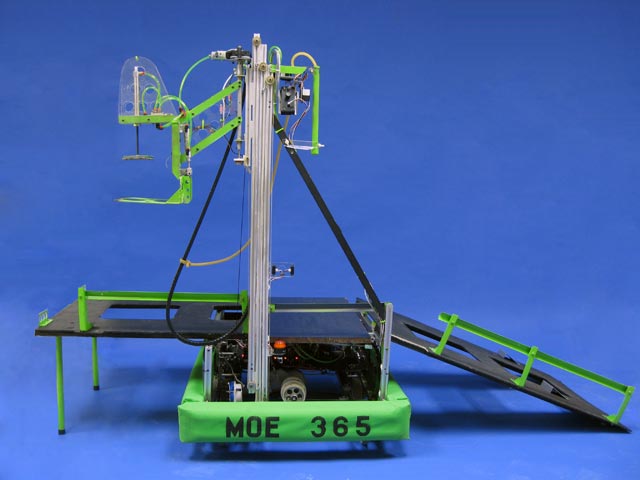 Introducting MOE 365's bot for 2007, affectionately named MOEzilla. We will be competing at Finger Lakes, Philly, and the Championship.
Whats next?
MOEFox?
Internet ExMOEr?
OpMOE?
Sorry, geek humor.
MOE-zilla looks awesome, as always! I'm sure I'm not the only one who was checking your site regularly in hopes that the "soon to be released" message had gone away :). I've got a few quick question's, though…
Your grabber looks very effective and simple, but it also looks as though it puts a lot of your weight in the air - Do you foresee having to put a wheelie bar on this year's bot?
I think I can just barely make out Bane bots transmissions in your drivetrain. If I am correct, is there any reason you chose to use them this year even with their current failure rate?
And lastly, how do you guys actuate the ramps?
Looks great, thanks for the picture.
Can't wait to see MOEzilla in action at FLR!!!
It looks like you load and hold tubes on the side of your bot. Any reason for this? Is it harder to load than other methods?
I don't want to steal the "ThMOEnder" from the team, but here's my understanding of their design…

The short arm is able to rotate (horizontally) on their elevator, much like their '05 tetra bot. This allows it to store within the envelope, as well as score from both the side and front of the robot. It looks to have a double pneumatic actuated grabber, where the top clamps down to grab a ringer, and the bottom swings downward to release the ringer. I can't tell if the arm pivots on those 4-bar links or not.
I like the design a lot! The ramps have some nifty guard rails on it, and I can only assume that they are planning on using the back wall to guilde the robots on the opposite side of the ramp. One of the subtle devices I spied are the wheel blocks on the angled side of the ramp. They look to be spring loaded, so that a robot can drive over them, but help to support the robot after the power is cut. Very nice! Can't wait to see some video.
BEN
That looks like a really cool robot and I can't wait to see it at Philly. I have a couple questions.
Your grabber appears to turret, is this so?
Also, what material are your ramps made of?
Thanks for the comments gang. It's great to see lotsa bot photos online to start examining designs and thought processes.
I can answer a few questions…
Our grabber does rotate about our vertical arm, about 180-degrees. The grabber does not pivot on it's horizontal axis. It is not that heavy - 5-6 lbs - and does not cause a problem being high in the air. No need for wheelie bars (this season, anyway).
We are not using Banebots.
Ramp Actuation - we have only run a few tests. Need to run more to determine best method.
MOEzilla loads tubes from the front. It appears to load from the side due to grabber position in the photo.
Ramp material -luan board with stiffening panels made of composite honeycomb sheets.
Can't wait to test MOEzilla in competition! See all of you headed to Rochester in two weeks. Best of luck to teams competing on Week 1!
I've looked at pictures and the robot MOE has produced in the past, this one looks like it has a little bit of everything they have made all rolled into it. I have a good feeling about this robot. Great job MOE
I like it a ton! The one downside: It doesn't have 6 arms like the really old mozilla did…
How quickly can you go from ground to top?
Good question. I don't have an accurate answer for you since we didn't time it. It's fast. Fast enough to put a hole in our lab's ceiling tiles before we could stop it.

I've been waiting for a long time to see this bot. My favorite time of the build season is always seeing MOE's reveal (One of these years, I'll make it down to Beach St. to see the real thing). Machine looks great, I'm pumped to see it on webcasts.
You joke, but you should see the list of names we come up with every year to choose from. This year it was almost 2 pages of names in rather small print.
By the way Dan-o, It would be neat if you came down to visit from Albany, but you will not find us at Beech Street. Those building belong to DART now. We moved over to Barley Mill a few years ago.
we're going to have some fun in competitions. as Mr Moe said, our deployment speed hasn't been timed yet but the capability of our arm is quite impressive. rochester should be a good proving ground and will definitely be an adventure (going that far up into new york at least, is it still cold up there btw? I need to know how to pack).
Dress warmly.
It may snow.
Hey guys the bot looks great! Can't wait to see it in action at FLR.
Looks impressive as always MOE! We'll miss working with you this year… Best of luck at the FLR, maybe you'll "sneak in under the radar" in Rochester;)
See you in ATL.
Hey, this is Micah, formerly of 395, now of 708. Can't wait to compete against you guys with my new team in Philly. Good luck this year.
Awesome looking robot. Good luck during the season.
We are certainly going to miss our friends at the Pittsburgh Regional. We attended twice which makes it second on our Regional List to Philly. Its good to see more teams attending Pitt, after barely having enough for Elims last year.
I am very excited about FLR. As for "sneaking under the radar", I think we are just too bright green and loud for stealth missions. After 2 Regional SF finishes, I thought we had a good chance to come into Championship with a tuned camera (after some funny dances at Philly:D ) and surprise some people, but CD scouting is just too good these days. I couldn't even pick my own team with top 10 picks in 2 Fantasy FIRST drafts.