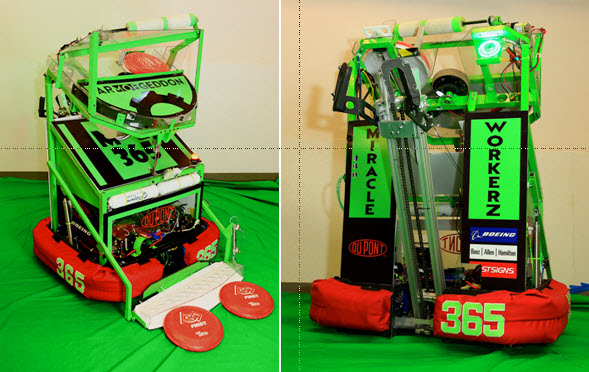 MOE 365 - 2013 Robot "ArMOEgeddon"
Is that a 30 point climb? If so, can it dump? Does it fit under the pyramid?
I love the green, and the name. Great job and good luck!
wow, the robot looks incredible this year. wish i was still there

hoping to come out to a competition though! good luck guys!
"Welcome to ArMOEgeddon" - MOE 365's robot for 2013
Bright MOE green and black (surprise!)
Mecanum drive
High mounted adjustable shooter
Floor and feeder station pickup
IR vision goal targeting
Multiple autonomous modes
Climber
Video coming later.
Awesome John and all of 365! Can't wait to see you guys next week at Hatboro.
Nate
Thanks, Nate. Looking forward to seeing STORM!
As always, a beautiful green MOEbot!
I just looked at your event list and I'm very disappointed that I probably won't get to see this in person during the regular season. Can't wait for the video!
Looks like another great contender from MOE! Can't wait to see it up close at Hatboro-Horsham this weekend. Maybe the match scheduling gods will let us play together on the same alliance for once this year.
Looks nice is it a 30 point climber?
World's first Mechanum drive MOE robot. Can't wait to see you guys at HH!
MOE has been an inspiration to us on and off the field, and working together at champs in 2011 is among our cherished memories. Love the double disc pick-up. Expecting some huge auto scores. Can't wait to hear more about the climber.
Can't wait to see it at Chesapeake

I can't wait for Chesapeake to see MOE in person compete.Meanwhile,i being watching the MAR districts events
Thanks. We are looking forward to the Chesapeake Regional also. We missed it last year! All the best this season!
John