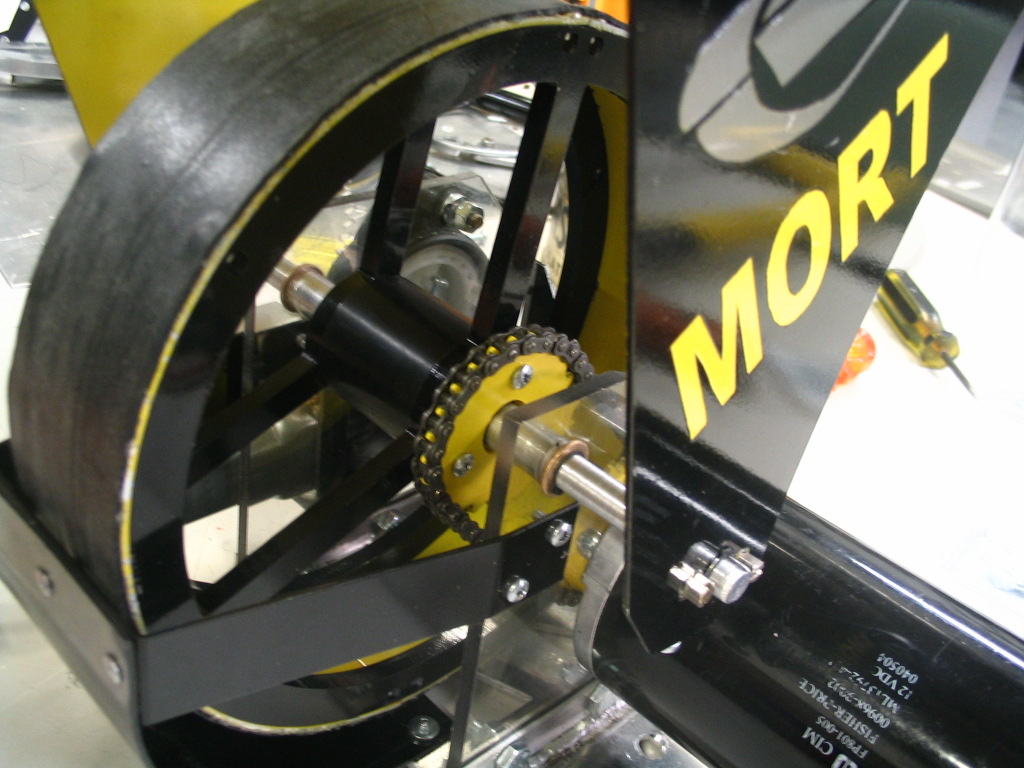 This is the MORT '06 shooter. 100% designed and built by students.
Design: Kevin Meissner, Eric Weiland
CAD:Kevin Meissner
CNC: In Eric's basement on his dad's CNC.
Welding: Kevin Meissner
Assembly: Eric Weiland, Kevin Meissner, Mike Nawrot
Lathe Work: Mike Nawrot, Kevin Meissner.
Awesome Team Color Paint Job: Kevin Meissner and good ol' spray paint.
Rad Rad Robotank Symbol: Alex Tessmer's ADHD (ok… he doesn't really have ADHD, but he had to do something crazy)
Awesome Photo : Kevin Meissner.
This shooter has a 100% custon CNC'd aluminum wheel, which runs on 3/8 bearings located in the central Delrin hub. It is coated with a custom fitted inner tube, and is mounted on Lexan side walls. It's powered by a single mini-bike motor, and uses an aluminum hood to compress and aim the balls. The hood has an adjustable angle, and has a potentiometer mounted to it (not shown) to return values to the robot controller. The shooter is mounted on a turret and gets 180 degrees of rotation. The base that attaches to the turret is CNC'd aluminum and was welded by Kevin Meissner. All the gears are custom CNC'd from lexan, except the drive for the wheel, which is two stock nylon sprockets custom painted yellow. There is a lexan gaurd on the front of the wheel to protect it and to increase safety. Overall… we're insanely proud of this shooter. See you in Trenton.