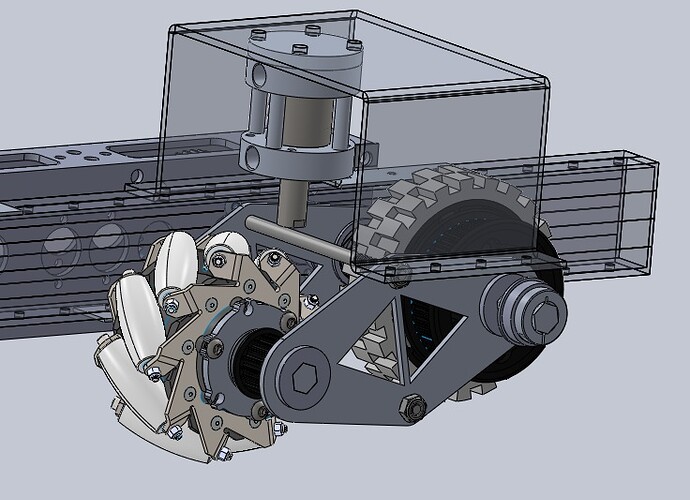 About three weeks ago I decided I wanted to learn CAD, so I downloaded Solidworks and tried to teach it to myself. This is my first project, so I would appreciate any advice you have to give.
I designed these octocanum modules with my team (small, poor, and few precision machining resources) in mind, so I put a large focus on cost savings and ease of assembly (i.e. as many COTS parts and as few precision machined parts as possible). Since we have a number of 2 output 20" Nanotube gearboxes available, I chose to incorporate them into my design so we don't have to machine or buy new gearboxes. I also tried to buy as many parts from AndyMark as possible because we have the $450 PDV there. Everything else either came from VexPro or McMaster-Carr. The whole system (aside from the Nanotubes) would be mounted between two pieces of VersaFrame Stock, one of which is shown in the render (both shown in the 3D model). Aside from the sheet metal parts, which we would get cut by our water-jet sponsor, the only holes that would need to by cut are in the pieces of VersaFrame, which doesn't need to be 100% precise.
You can find the 3D model at https://workbench.grabcad.com/workbench/projects/gcfZwq4RoGSskZfCPBBO0EVxoq3b_mHPqqNUeM2Z3EG48m#/space/gcjDLZ9WGAn7KdXSLimRKaZ-lz4m4HtbH3GmW22_hONOjZ/folder/1505901
Here are some specs:
High Gear Ratio - 5.5:1
Low Gear Ratio - 12.8:1
High Gear Top Speed - 13.73 ft/s
Low Gear Top Speed - 5.89 ft/s
Weight (not including CIM, Nanotube, or VersaFrame Stock): ~5 lbs each
Some questions I have that I hope someone can answer:
Are those speeds about what they should be?
Is 1/8 plate too thin? too thick?
Will the 1.0625" d pneumatic cylinder be strong enough? too strong?
Will the thing snap in half as soon as we start driving?
Thanks for your help!