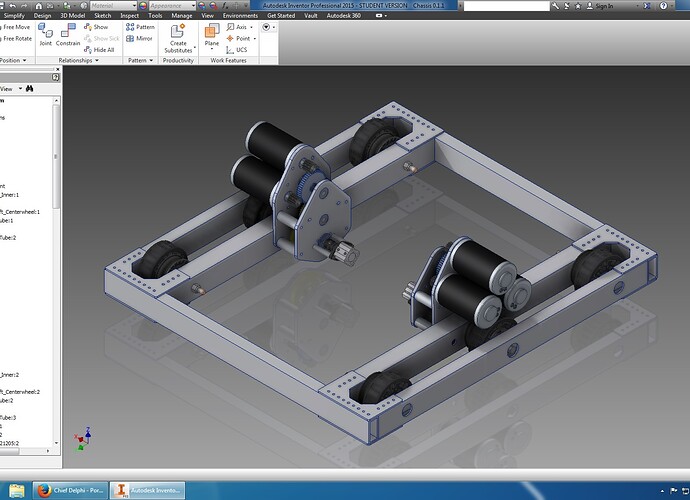 A bit more playing around in CAD, and now I have something I'd feel comfortable making.
This is a drive I've been toying around with for an offseason project. The goal was to design a 6WD with direct-driven center wheels that offers easy access to both the wheels and the belts (as opposed to a WCD design, where you've got trivial access to the wheels but changing the belts is a pain), and which saves center space by floating the CIMs over the drive wheels.
The general idea is essentially the same as the AM14U: direct-driven center wheel, with belts to outer wheels with dead axles. However, the AM14U design has a few unfortunate flaws; most notably, access to the center wheel is a PITA because you have to remove either the entire side plate (ugh) or the entire gearbox (even more ugh) to get access to the end of the gearbox's output shaft. To solve this, this design uses a coupled output shaft; the gearbox shaft is cut short and attached to a SDP-SI hex sleeve, and the wheel shaft simply is inserted into the hex sleeve. This coupling is contained inside the 2''x1.5'' tube that forms the inner member of the chassis, and is not visible. An additional benefit is that gearbox removal now only requires that you pull the gearbox about an inch inwards after removing the frame; on a standard WCD or an AM14U, you have to pull the gearbox the entire length of the output shaft.
The gearboxes are essentially standard WCP 3CIM dog shifters; I simply copy-pasted the important geometry from their plates and toyed around with the top of it so that the CIMs interface with the cluster gear from the 3CIM single-speed gearbox. The lower half of the assembly is pretty much untouched, except that, on recommendation from a previous commenter, I depressed one of the bearing holes so that the hex bearing on the output shaft protrudes 1/8'' past the plate to ensure proper alignment of gearbox and framing member.
Chassis would be held together with 3/16 steel rivets (not shown; I'm not devoted enough to add bolts and rivets to my CADs).
I'd love any feedback you can give.