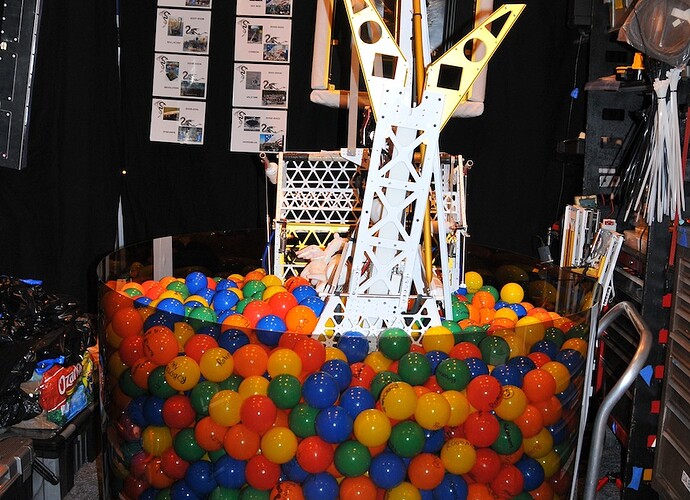 The Robowranglers (148) continued their three year prank war with the Robonauts (118).
Operation Playhouse… successful.
Some of you may have seen the results of the Robowrangler's "Operation Playhouse."
Here is some backstory:
http://blog.iamjvn.com/2011/05/operation-playhouse.html
It was one of the highlights of my championship. In fact, it may be one of the highlights of my entire career in FIRST.

Thanks to 118 for being such good friends. We love you guys.
I just LOVE this pic!


Maybe we can do something similar to 368 next year.

I cannot wait to see this escalate further. I just read the blog post and my laughter woke my roommate.
This is absolutely hilarious. Hands down the best prank I've ever seen in FIRST
Just because we don't cheer, doesn't mean we don't have fun.


*
"Professionalism at all times… even when you're playing an epic prank on your friends."*
I wonder if the folks who label generic merchandise for trade shows (and FIRST teams' giveaways) could come up with a cost-effective means of printing a logo on a few thousand balls.
Always looking to optimize the production process…
They have, it is called freshmen with sharpies.
Something tells me that 118 won't have to shop for giveaways next year–add "118" to all surviving balls and it's a perfect giveaway!

Loving this! Great job you guys!
i cracked up when i heard about this!!! we have 2 big bags of playpen balls that we pass around between the robotics team members by spreading them around their yard

Haha, this is hillarious. Wish I was there to see it in person. Great job guys.
Definitely the best prank I've seen in FIRST thus far in my career.
Absolutely fantastic.
-Brando
So I was walking around Newton and saw some play place balls in a clear plastic bag. I wondered what it was for…

This is pretty awesome!
Please tell me you used Silver Sharpies!
It would be ironic if those balls were next year's game piece, at which point 118 could reply "muahahaha!".
hilarious. Love this spirit:D . This friendly prank should be happening more often.
I can't wait to see what happens at round up in Austin.
One of my good friends from the Beach Bots sent me a picture of this the night you guys did it. I burst out laughing at dinner and just had to share it with the entire team. I think it's great teams can be great friends and connect like this. Thanks for the laughs 148 and 118!

Hilarious! This prank should have won a award. I can't believed I missed it in person. I took pictures of 118's robot the following day and I was wondering why they had a few balls attached to it.