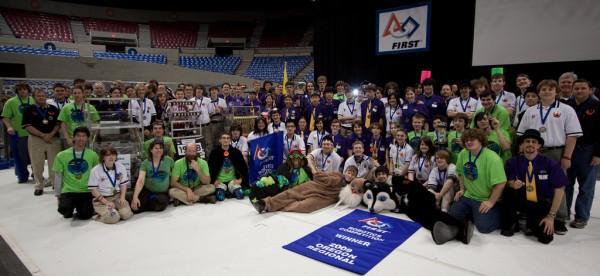 Teams:
1318
1983
2635
Congratulations!
I didn't watch the Oregon regional or know the teams well, but you all look professional and good luck at Atlanta!
Keehun
Team 2502
Thanks!
Having two scoring robots (1983 & 1318), as well as a good defensive robot (2635) that could also run empty cells, proved to be the perfect strategy for us at this regional. During one of our semi-final matches, 2635 was able to bring our human player two empty cells and pin 488 for more than half the match. The score ended up being 98 to 19, in our favor.
Congratulations, y'all. We really are tired of losing to you and would love a shot at competing with you in Seattle in a few weeks.
We're adding some additional sensor feedback to make dumping even faster and more reliable and we're swapping the Jaguars on our drive out for Victor 884's. I'm not risking having another burn out when it matters most.

We were a little scared before we had to compete against you in the semi's. After watching your robot all day, our scouts were impressed and expressed their concern with us right before we went on the field. It's too bad that the field errors had such a dramatic impact on your alliance. It would have been a treat to play your alliance with all Jaguar's running at 255. I look forward to either playing against you, or with you in Seattle. Good luck!

It's life; our alliance was hardly alone in having trouble working properly with the field.
You all have solid machines and, even if the winds were all in our favor, we still had a very steep uphill climb. Your swerve makes tracking you down very challenging, to say the least, but it's not possible to just ignore you and score on the other teams. We knew as soon as we'd done that, you'd sneak up right behind us and unleash a torrent of balls.

I dont know about "torrent." We would like to give the best dumper award to 488, by far. It was impossible to tell how many balls you were storing, which made you a team that all others had to fear. The swerve is working better than we had hoped, over the course of the competition our driver became more ane more "crabby". He learned to use the trailer to turn as opposed to "yawing" which many other succesful teams did at the Oregon Regional.
Hey, congrats guys. I'm amped up to see you in Seattle. 5 Days away, my heart rate triples just thinking about it.
I think that all of the Skunks are as excited as you. What i'm "amped up" to see is the 3 champions and 2 out of the three finalists duke it out again for the MSR championship!