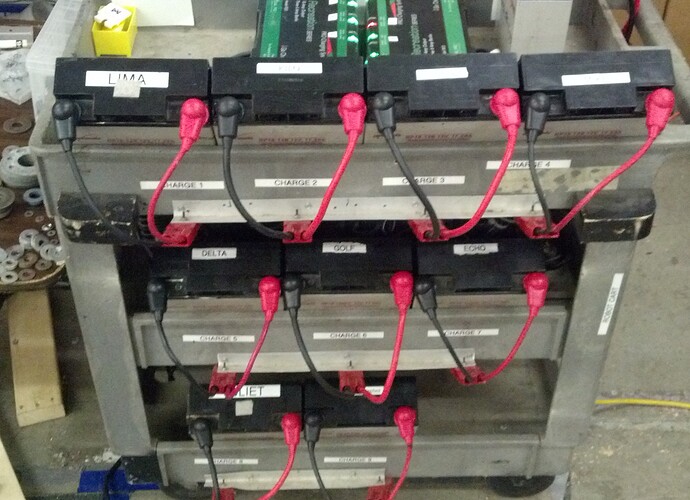 Finally got some legit right angle boots for our batteries… Big Al will finally approve of Winnovation's batteries!!! yay!!!
Would you be able to share where you got those from. Really like how nice and clean they look.
Those look really nice. I second the request where did you get those?
Would they work on the power distribution board and the 120 amp circuit breaker?
-Hugh
I got them here! It was my first experience buying from these guys and it won't be my last! Great support and fast shipping! They come in all sizes Hugh, so I think you'll be able to find ones that will fit great on the PD board.
Those. Are. AWESOME!!!
Thanks for providing the link, not only do they look pretty, they should be a smidgen safer than current battery terminals covered with heat shrink / electrical tape.
Nice! Is the design file published anywhere?
I'd be wary of labelling over the battery vent ports. The rectangular strip is designed to come off to help relieve pressure when the cells vent hydrogen unexpectedly. Maybe it's worth carefully scoring the label?
Yeah, I was suggesting we also put them on the sides, but Aren insisted the top. We may change this though depending on how our cart is built (which I'm in the middle of building right now). Thanks for the tip.
Glad to see I'm not the only one who labels batteries by the phonetic alphabet.
Yea it really helps out in keeping track of everything!
Yea, I put the labels inside or right above the top vent port specifically so it could be removed without any need to rip our labels.
it is a simple paper label, which tend to be fairly permeable.
Alan,
I can forward it along, but you can also purchase handles and other accessories at http://www.powerwerx.com/powerpole-accessories/
We just chose to print some to expose some of the kids to the available technologies we have in the Iowa State Shop.
Also I get the feeling this means you'll give Al something else to yell at you about? always something
Neutrinos haz 3d printer?
WANT!
Actually we have 3 at ISU and one of our mentors has a personal one as well

Makes us think about what we can 3D print this year b/c it's so much fun… Well, until someone stops it & pulls it out and screws it up anyway.
Hopefully something mechanical… teehee :yikes: