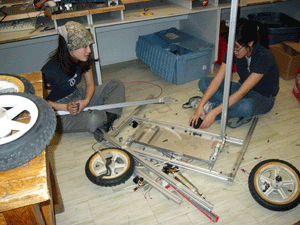 well build season is almost over and our robot is almost completed. check it out
Don't despair. Think of it this way: If you pull it off, you can act all smug because you got away with it.
Last year our robot did not run until 1am the day of shipping, if you've got the guts you will get the job done. Good luck, never give up.
Last year our robot didn't hang until August :ahh: . Keep working. It may take an all-nighter or two (or three or four) but you can do it

As someone that was there, you're being fairly liberal with the use of the word "run".
Seriously, never underestimate the ability of folks to perform under pressure. I've seen some seriously impressive "pit engineering" on more than one team in the past.
I hope have a lot of chocolate covered coffee beans. Other wise I don't think your gonna make it. Actually me team is also a bit behind schedule so I guess we need some chocolate cover coffee beans too.
Good Luck.
yeah, it took 3 years for our team to finally figure out how to build a robot on schedule. Today our robot ran for the first time(completely, every system) which is right on schedule. Previous years though, we were lucky if it ran the night before we shipped it. Very lucky

Usually the pit is very, very, very busy.
Luckily this year our team managed to have the kit bot running to experiment with and we are looking to be a little behind but we will manage. Good luck. It can be done.
You guys will pull it out. We are a rookie team this year and i cant belive how well we have done. I hope you guys can finish it.
You're farther ahead than some teams in the Richmond area.

Hey hey, don't feel too bad. This is 93's robot about 5 minutes before the truck came to pick it up in 2001:
http://img.photobucket.com/albums/v427/firstae2004/FIRST/readytoship.jpg
It kinda ran on Friday, during Midwest … ran a few times at Nationals … never really worked.
The rest of the robots (from 1998-2004) are pretty much fully functional in the auto shop of Appleton East … TOBOR V was scrapped for parts. :yikes:
It happens on every project: Last minute rushes. Just get over it like you would get over anything.
no worries. that was how our robot looked on friday the 11th. now, our robot runs, and we are about to get our arm programmed. 0-70% in 4 days. of course, we did get alot of help from woburn since we're rookies