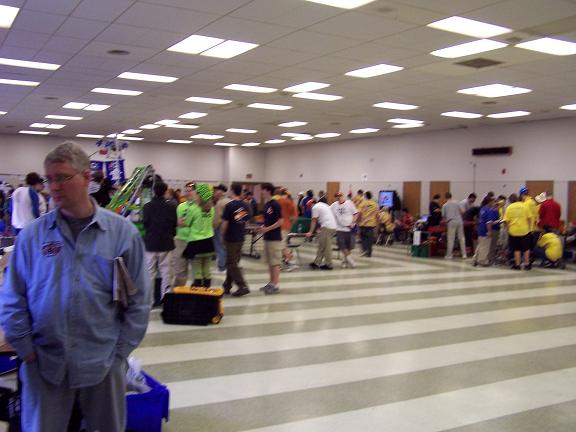 This is the pits at PARC 7. This was a great improvement over previous years pits.
I was wondering what everyone else thought about the new pit setup. For those of you who were new this year in the past we had a maze that looked like a huge obstecal course filled with robots and people running up and down the hallways yelling out team numbers and match calls. This year with the new location it made it easier on myself and my pit admin. crew
I didn't spend much time in the pits but when i was going to them it made it alot easier to access them.
As it being my 5th year at PARC, the pits were absolutely amazing! One year (2002?) we were fortunate enough to be in the tiny room just off of the gym (perhaps the wrestling room), and that was a great benefit for a few teams. However, this was able to house everyone, and it was a wonderful improvement.
the pits worked much better this year than other years. it was a very good idea to move them to the cafeteria. it was very roomy

how far away were the pits from the gym there?
The pits themselves i believe are about 60-70 feet away.
I never really minded the pits from before. I guess we were always lucky because we were at the end of pit rows so we had a lot of room. I liked the gym too. We got a nice pit by the window with a heater that we could set stuff up on. It gave a more regional feel. The only complaint I had about them was that I was completely confused when I first showed up, and second they were farther from the feild.
An idea for next year would be to not send the teams out so early. We often felt rushed, and when we left for the field there were still a couple matches ahead of us.
You call those pits? it looks like a show room! :rolleyes:
The reason we cued so far ahead was that we were on a time limit and communication between the field a pits was not that great.