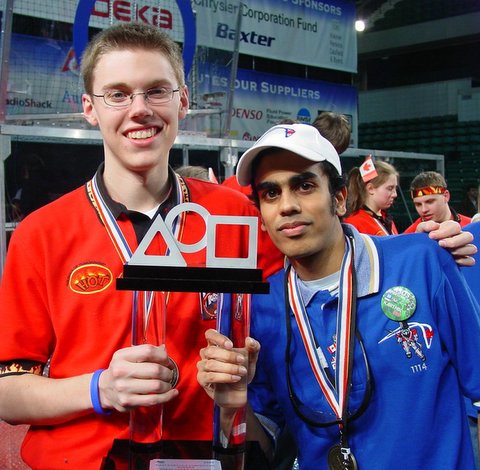 Karthik and I after the 2006 GLR win.
1114, 1503, & 67: A great alliance.
congrats on your win…it appears like the triplets are going to be a force again this year.
Is it just me, or does Karthik look really short in that picture? He should have brought his portable bleacher

I'm about 6' 2" so, that could account for the appearance of shortness.

that was my first thought of seeing this picture. Hopefully i get to meet ya at GTR Karthik.
Congratulations on the win guys. What an amazing alliance, I can't believe two triplets and HOT were able to get together in the elimination rounds. I can't wait for GTR Karthik, it will be great to work with 1114 again and to finally work with the triplets.
Congrats again,
JT
229
I don't think anyone at 67 will be offended by this - they recognize their robot has issues this year. The way it happened is that 1503 was first seed, and chose 3rd seed 1114. HOT was not selected until the final pick - after the serpentine draw had gone all the way down to 8 and back up to 1. HOT played some good defense in the eliminations.
Exactly. We picked HOT for defence. our teams have some amazing scouts that saw they had a great drivetrain and could play good defence for us. we figured, with their drivetrain, and an experienced driver, such as Pat, that they could keep the other robots off either 1114 or ourselves long enough for us to score.
and they did. Great job Pat and the rest of the HOT team, and thanks again from 1503.
oh, and in the words of ric flair… WOO!

wow… why is Karthik not smiling? that's what I want to know


(lol to sarah and brett in background)
I've been trained at the "model pose", so I never quite know how to smile in photos when asked to. So I usually end up looking pensive or confused.