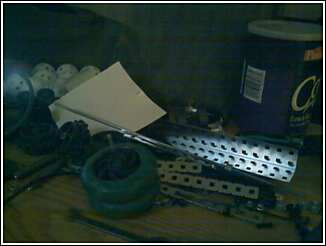 will it shoot the balls? I had a vex robot that shot the same balls with two wheels together like that…
I at least know kinda what it looks like!! Wow i feel so privledged to have a general idea of what alex cormiers vex bot looks like!! :]
Well you can forget what i told you earlier. It has totally changed for the better and now it's easier to dominate.
That would make for an interesting strategy… I will keep that as a fail safe. If i can't get anything else to work i will shoot thebalsl into the goal. yay.
WOW… awesome pile of… vex parts! It's rather unfortunate I can't make it up there for Ruckus, I'm gonna miss Alex getting dominated by the younger kids.