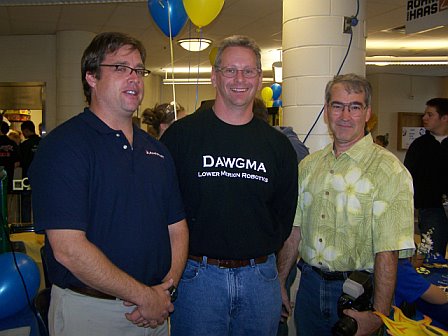 It's cool hanging out with your heroes. It's even cooler to be able to call them "friend" :).
Andy drove out to Ramp Riot from Indy to support Team 341's event and share the AndyMark product line with the teams and visitors. He was busy all day talking AndyMark and FIRST with anyone and everyone who stopped by his display in the lobby - sometimes 20 people deep, literally without a break.
Dave drove up from VA for the day to support Sean in his new mentor/coaching role with 1712, to check out the FTC scrimmage action and visit with Amanda (what a bonus!) who was down from HQ to test FTC software, and to take a lead role in a ceremony to honor Mike Wade during the lunch break.
I spend a lot of time seeking the counsel of these two electronically all year long. These guys have graciously taken the time to help me with everything from running my team, to building the robot, to helping me out with special FIRST/Robotics/curriculum related projects, to family life. It's very rare the planets line up and we get to spend a little time together in person, but I'm extrememly grateful it happened this weekend.
AAARRRRRGGGGGGGGGHHHHHHHHHHHHH! :eek:
Another missed opportunity. My wife and I originally planned to come down with the Kentfields but our plans changed 2 weeks ago.
Oh well. See you all in Manchester in 54 days.
I'll agree that it's very cool to be able to see your FIRST friends from another area of the country whom you only get to converse with over e-mail or on CD!
3 words people (well 4)
Dork, Dorker, and Dorkest
So I ask two really great guys, Rich Kressly and Andy Baker, to get my picture with them at ramp riot. Next this other guy can't resist getting in and having his picture taken with the two FIRST heros… guy turns around, and I look to see who just hopped in my picture… Turns out its Dave. Geeze Dave, get in line to get your picture taken with Andy Baker, No Cutsies.
Ha ha, what a cool experience. I could only be at RR for a short time, and I'm back in Florida now. A main memory of the trip…
Brrrrrrrrrrrrrrrrrrrrrrrrrrrrrrrrrrrrrrrrrrrrrrrrrrrrrrrrrrrrrrrrr.
Barry, why are you hiding behind Rich? You know that mentors are supposed to hide behind students, and Senior Mentors behind mentors…:rolleyes: