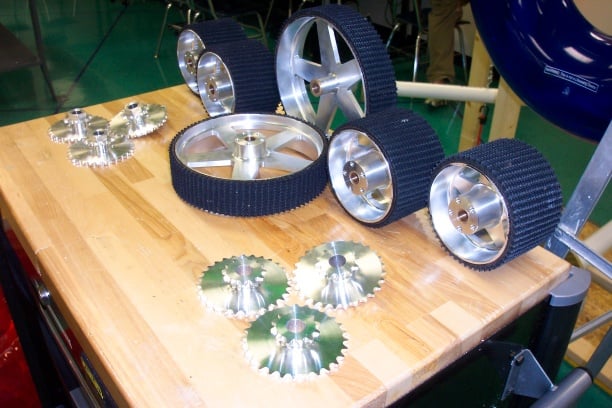 Here is another angle view at our 2007 FRC wheels and sprockets… Enjoy!
oooOOoooOOOO shiney!! Looks like some great wheels!
Does this mean that you're using 6 wheel drive?
Not only that, but it looks like they're doing a special type of 6WD. I thought you guys were short on money–donated labor by a machine shop or in-house parts?
Oh believe me… we are definitly low on funds, but with some effort of the mentors that we have on our team, we were able to put together some nice wheels for our bot… Hopefully we can pull some money together to get into Nationals, and maybe have a shot at that, but for right now we will only be attending Great Lakes, and a few will be attending the Buckeye regional. Also time was definitly a factor, these wheels took close to 20 hours to make… (Excluding the tread glueing time.) We just thought that it would be cool to have some "Blingin" wheels on our bot. Like I said before… We hope that you all like them, becasue we totally appriciate all of the time that was taken to make these wheels, and we wouldent have them without it.
hey how did u polish the sprockets?
Very nice wheels, Kind of wide for my taste tho
Polish is for wussys… All natural aluminum baby!!!