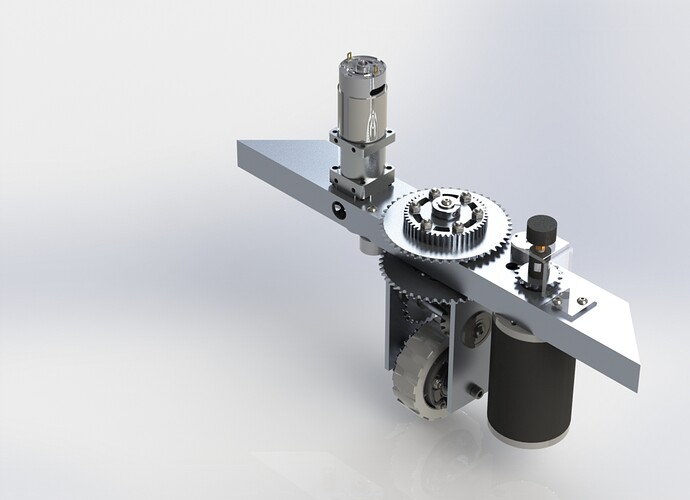 The completed GBX-116 swerve drive, with encoders, hardware, and a few extra bits I forgot to add in and that were recommended.
This boasts only 9 "machined" or modified components. Of those, only three require decent tolerances and only two of those three require more than just cutting to length (the caster box and top piece).
Fully "machinable" with only a drill press, a hacksaw, a file, a 0.01" graduated ruler, a scribe, and some rookies. You'll also need a vise to hold stuff while hacksawing and to bend some polycarbonate for the encoder mount.
EDIT: Bevel gear tolerances are almost impossible to achieve on a drill press. If you do not posses an x-y table for your press, I would highly recommend either building a good jig for the bevel gears and measuring the error or buying an x-y table.
Specific tools:
-Drill press
-Hacksaw
-Files
-Drill bit set, both numeral and fractional if possible.
-Scribe (AKA sharp metal pen thingy)
-Allen wrench/ key set (male hex wrenches)
-1.125" drill bit, reamer, or step drill. Holesaw not recommended unless you are certain you can get good holes for bearings to fit into with minimal play. Does not need to be perfect, but within 0.01" diameter tolerance hopefully.
-5/8" and 3/4" drill bits or holesaws. No tolerance on these, but the 3/4" needs to drill a hole for the cim boss. So more like 0.751"+.
-Wrench set, preferably ratcheting
-Pliers
-Deburring tools (countersinks work really well for small holes)
-0.01" graduated ruler, 6"+ long
-Solid square
-Rookies
Recommended tooling:
-Calipers. Digital or dial, doesn't matter. These are fantastic for getting hole locations correct and making stuff the right size. Maybe $15 on ebay. Get metal, not plastic.
-Bandsaw. Useful to have around, makes cutting the 2x1 a breeze and gets right-angle cuts.
-x-y table for drill press or a mini-mill, and a wiggler or edgefinder or some sort. Makes those hole locations perfect.
-A jig to drill the bearing holes properly. This way, you just cut the jig to be able to cut the two bearing holes in the caster box at almost exactly the same place. A jig or an x-y table would be perfect.
Weight as shown is 7.19lbs plus chain. A four-module chassis is 34.7lbs plus gussets and rivets. Not too shabby, but you could probably cull a lot of weight by lightening this up or using 0.1" wall Vex 2x1 instead of the 1/8" wall stuff in the CAD.
CAD is available here: https://drive.google.com/file/d/0BzU34PeNVT0QX0JQeHhiaXdaVlE/view?usp=sharing
I will make a parts list and drawings available eventually. I might be getting my own mill soon, so that will bring a chance to try and make it myself (using the mill only as a drill press, of course). Estimated cost should be around $300-$400 per module, but that's including the BaneBots gearbox, encoders, CIM, etc. Most teams will probably spend a lot less.
More inpute would be nice. Again, anybody with experience working to tolerance with a drill press would be very welcom in terms of general advice.