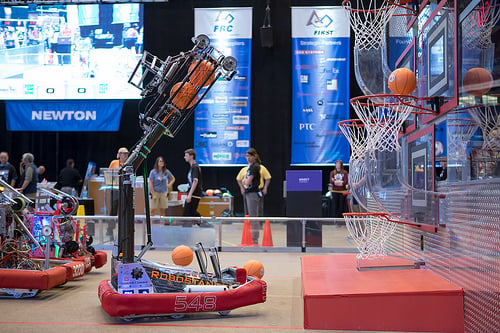 Team 548 Final robot.
Specs
Drivetrain:
2 speed AM Transmition (4:1 shift) ~17fps and ~4fps.
6 IFI Traction wheels (4 4" and 2 6") Skid steer
Built in skis into front with low friction plastic running the length of side plate.
Motors, 4 Cims
Arm:
4 bar linkage
Gas strut keeps arm neutral
Motors, 2 fisher price
Barrel:
4 Polycord bands inside the barrel
Holds only 3 balls
Motors, 1 AM gear motor
Shooter:
2 custom 3" black rubber wheels
Independent top/bottom wheel speeds
Doubles as pickup system
Motors, 2 RS-775's
Ingester:
28" Wide funnel ("Through the bumper")
Able to Lower bridge
Pneumaticaly deployed
Motors: 1 RS-550
End Game:
2 "Fangs" pneumaticaly deployed
Weight allows robot to balance with back 4 wheels on bridge (~19")
Other: Yes, all the black stuff is Carbon Fiber
Photo Credit Dan Ernst
Feel free to ask any questions!