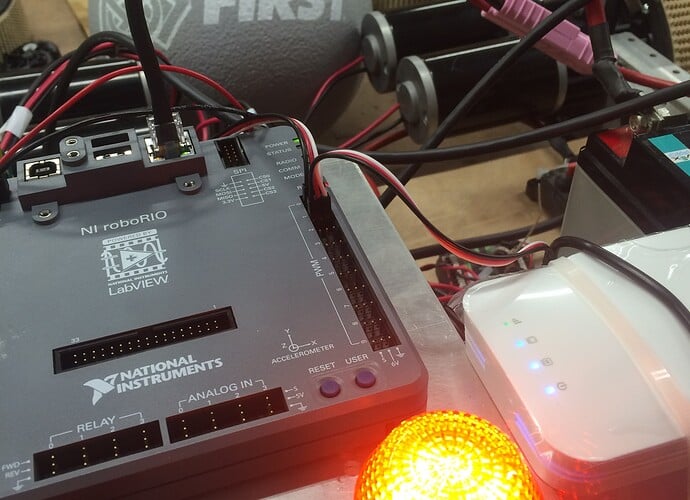 This is a Picture of the Robot as of Feb. 03, 2016.
This picture is also available on Instagram:
Noah on Instagram: "This not finished Beast of a robot... 😆 ; #NatinalInstruments #First #USFirst #FRC #USFirstFRC #IT #ITLife #Intel #AMD #Programming #Programmer #Tech #Technology #Velocity5420 #Velocity #Robots #Robotics #FightBot #CollageCredit #CollageOps #Networking #LabView"
I spy an exposed battery terminal! :eek:
As long as common sense is used, an exposed battery terminal is not a huge problem, but if it isn't used and the terminals are shorted it definitely causes problems:o .
When designing and testing a new robot, it can be difficult to put the time into doing a nice job of covering battery terminal( heatshrink, etc.) especially when the necessary orientation of the leads is unknown, but for a quick fix some electrical tape should suffice
R34 says it will be a major problem at inspection. And that rule doesn't exist as an engineering challenge.
We forgot to put electric tape on our terminals last year and passed inspection…
And that is why "It passed at [past event]" is not an excuse.
I know that. We heatshrank our batteries this year just figured Id mention that some inspectors neglect the rule.
Looking good Noah and the rest of 5420! Other than the battery terminal. We are excited to see the finished robot.
Thanks. We have taken the robot apart! But we are putting it back together today. :ahh:

I'm Placing ETape on the Batteries now…
(Also the Robot is not Finnished yet… we are maybe 85% finished)