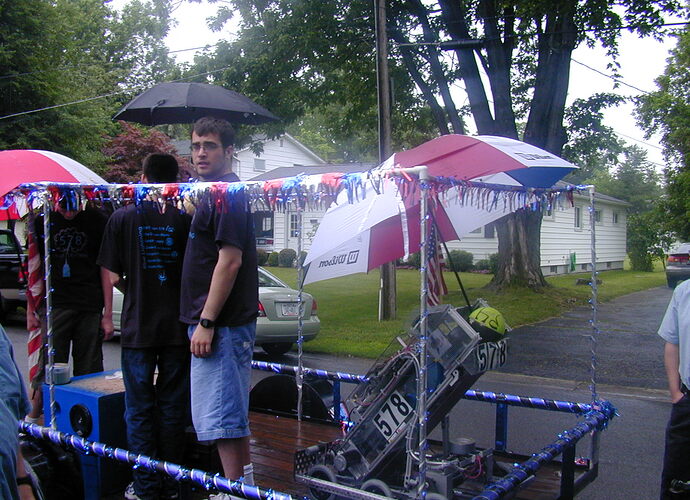 Well… it was the day of the 2006 Fairport, New York 4th of July parade, the forcast the night before said that we were in for a thunderstorm. Me and the club president made the decision to pull through mainly because it wasn't raining at all, but to be on the safe side the robot was wraped up completely in plastic as well as the boom box from our team's transport cart.
When we arrived at our placement number most of the team was sitting around. So I got out of the suburban and set up the parade banner and when I turned around the team was unwraping the robot as if it was a Christmas present. Moments later it started raining harder so the team put the umbrella you see in the picture on top of the robot for protection. We evantually moved the robot off of the float so we could get ready to drive it. Suddenly it started raining cats and dogs, we had members running to the suburban to set a tarp up over the float. And members shielding the robot with their bodies from the rain.
We then moved the robot onto the float and dried it off with towels from a car wash fundraiser we held earlier this year. Everyone except 2 members ended up getting soaked from all the rain. About 10 minutes into the parade we decided to pull the robot out of the float and drive it the rest of the parade distance. The good news is that the robot worked, and drove the full 5 mile route with only a little damage that was not caused by the rain.