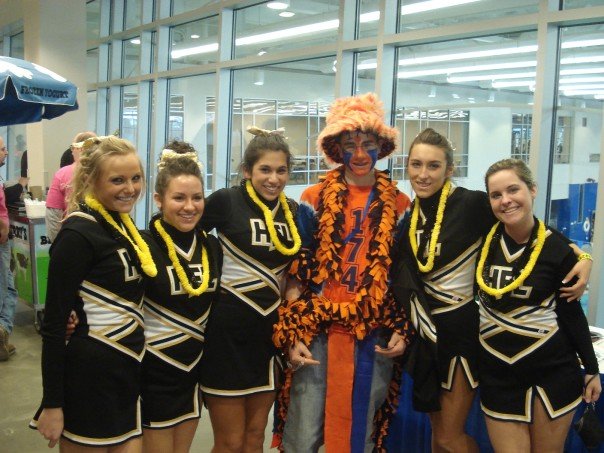 One of 174's freshman rookies gets his picture taken with 2228's cheerleaders.
They weren't there very long.
Did they get to cheer at all?
I did see two of them in the stands with their pompoms on Friday cheering in the stands. I think they were only there Friday.
Saturday. Yeah, I didn't see them real long either. It is pretty cool that they came out at all though.
They didn't have much room to cheer. We were trying to get them infront of the arena so they could do their cheer… stuff, but it didn't work out.
During 174's rookie year we had our cheerleaders actually make cheers for our team. We even have the video of it.
After rookie year…nothing.
Thay made cheers? Did they come and do them or just make em up for you guys.
They just made them for us. The video of them we have actually has them making pyramids and stuff for our team in the Gym. They didn't go to the regional we went to.
I've seen videos of other teams that had brought cheerleaders.
I saw some the the Fairport girls flipping all over the place and I thought " They have ringers!" because Fairport's cheerleaders are known for their tumbling prowess.
I think I saw some of the cheerleaders dance with some of the mascots out on the field on Saturday. When some of teammates noticed that they were there, our pt seemed to get a bit more elbow room to work on the robot.