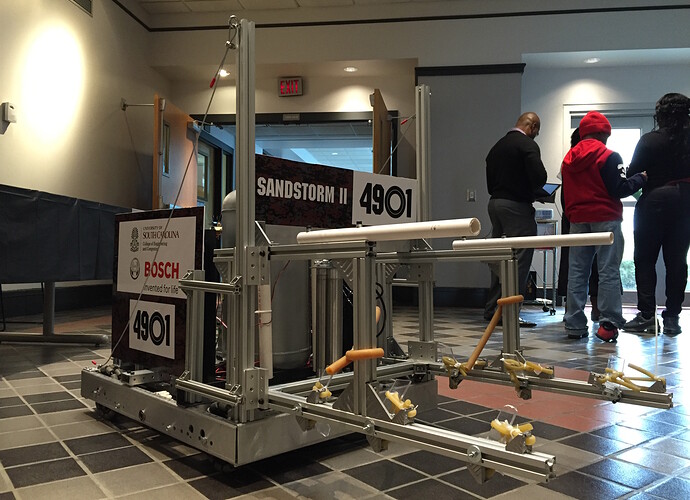 Introducing Garnet Squadron's latest machine, Sandstorm II!
Drivetrain: We went H-drive to be more maneuverable. Gearing didn't change, so we're 14-16 FPS when using the four main CIMs. Not that we'll need it often, but it's there. (The center strafe wheel runs only one CIM.)
The Stacker: Remember that 5-gallon tank John uploaded? Yeah, it was heavy. Turns out a 7-gallon aluminum tank is about four pounds lighter, so we're running it instead. Still using that continuous-duty compressor though so that we can use our two (regulated) 1.5" bore, 8" stroke cylinders to lift. The lift is made out of Bosch FMS extruded aluminum, and is tested to carry a stack of five and a container. Six with a container is entirely possible. Our concern now is charge times, since it does take a small eternity (longer than a time-out) to pressurize from zero; to this end, we've been working on air conservation plans and we're giving good hard thought to a motor-driven system we can swap out at Palmetto.
The hidden bits: We withheld our container arm. Two off the step in autonomous with a telescoping system envisioned in a Tractor Supply aisle. (John was shocked at how well it works. Business majors have game too!) And while the picture (taken at USC's Engineering Week open house) doesn't show it, don't worry–there's plenty of camo on this machine too.
4-H Garnet Squadron is supported by the University of South Carolina College of Engineering and Computing, Bosch, Bosch Rexroth Corporation, NASA, Fluor, and viewers like you.
See you at Palmetto, Orlando, hopefully Championship and IRI, and SCRIW V.