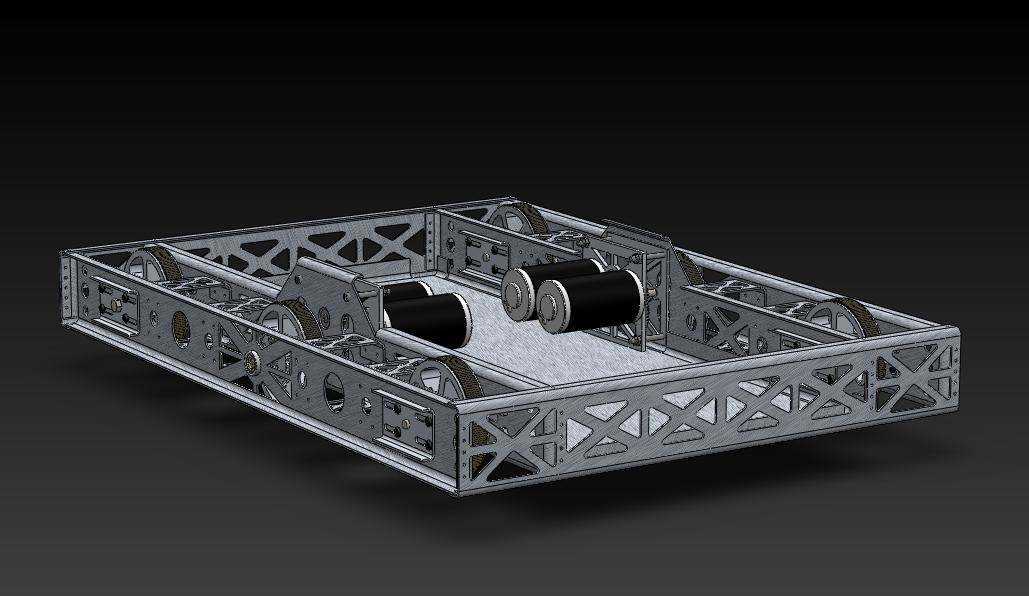 I haven't uploaded any of my CAD to Chief Delphi in a while, so I figured I'd post this. Recently I've been doing a lot of work with replicating West Coast Drives, so I decided to mix it up a little. The 148/217 collaboration really inspired me to learn more about sheetmetal and its fabrication process. This is one of a couple sheetmatal drives I've attempted to design.
Specs.
CAD says what's shown weighs 40 pounds.
2024 aluminum all .09in thick.
Most all flanges are .25in radius
It is riveted together (the holes for the rivets are shown, but the rivets aren't)
It's driven by a standard toughbox gearing, I customized the plates.
The middle wheel is direct driven via Hex Shaft, and power is distributed with # 35 chain to the outer wheels, which rest on Dead Axles.
The wheels are Custom 5 inch wheels, they have a leather tread riveted on. The wheels weigh .7 pounds each.
The chains are tensioned by sliding sheetmetal plates. The bolts are loose enough that the plates will slide, but tight enough so that wiggling is minimized ( I may add plastic washers to assist in a smooth slide). The original plan was to have zip ties go around the dead axles and when the chain loosened, one could simply pull on the zip-tie to tighten it. The other option was to attach a spring to the dead axle as well as to the outer frame to apply a constant force in keeping the chain tensioned.