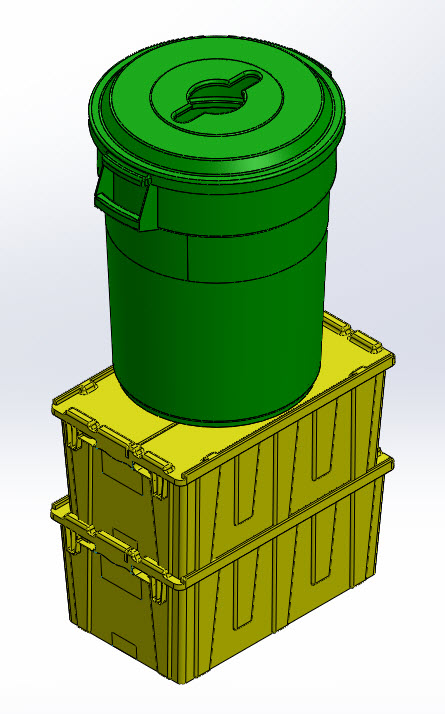 Models of 2015 KOP part 1 available today at
www.solidworks.com/FIRST
Does anyone know if there in an Inventor-compatible version of the game pieces and if not could someone with Solidworks convert the files to a neutral format and upload them somewhere?
I attempted to import the models to Inventor to no avail.

Is this what you are looking for?
Thank you Marie for getting the SolidWorks KOP out so quick!
Apparently I can't open the Inventor models that were posted there (corruption perhaps?) and the STEP file is a single, laggy object that I can't really do anything with.
What version of Inventor are you using?
Was using 2014, just installed 2015 though and it works now.
Thanks!

I'm not sure you have the correct base diameter for the container. Our container (and the dimensions specified in the manual) show that the recycling bin should be two inches wider than the top of the tote, it shouldn't fit inside the recessed lid of the tote.
If you don't have SolidWorks 2014 -2015 then go to www.3dcontentcentral.com. The formats will work for older versions of SolidWorks 2013, older versions of inventor creo.
Also on 3Dcontentcentral is dwg dxf formats, image and web based formats.
I loaded the game pieces last night and different churro's
If you have SolidWorks, download the kop from www.solidworks.com/first.
The 2015 folder contains models for this years game.
The 2014 folder contains models from last year. Many are still relevant.
Also in the 2014 folder is the blue cheese assembly from last year so teams can learn about SolidWorks Electrical.
We are working on the field. There were inconsistencies in the drawings we received. Just want to make it right.
Marie