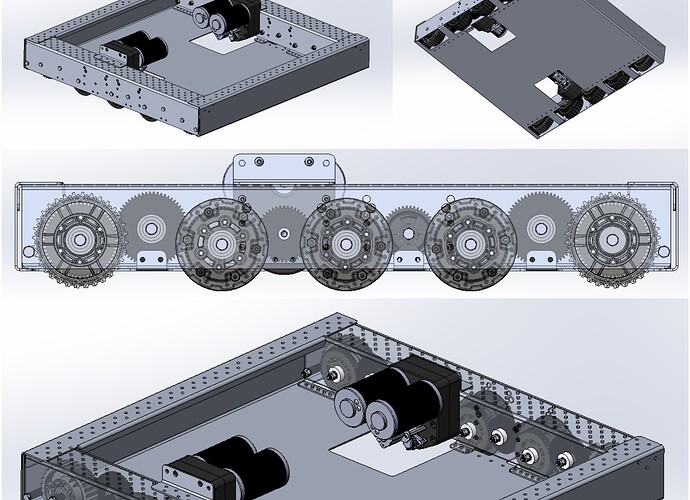 After seeing 488's prototype all gear drivetrain, I started playing around with the concept. Thank you to Madison and everyone in those threads, they gave me a lot of ideas. We are working on a fall prototype robot and this will likely be the starting the point.
10 Wheel drive (6 VEXpro Traction Wheels & 4 VersaWheels). 1.5" wide traction wheels can fit if needed.
VEXpro Ball Shifter drives a 45 tooth gear into 60 tooth gears on the wheels. Idlers are 1 45 tooth and 2 60 tooth WCP Dog Gears. This ends up with adjusted speeds of 15.35fps & 6.76fps (JVN's Calc). It would be possible to swap the 45 tooth gears for 35 tooth gears if you wanted to go slower; the inner wheels would have to come in but the bolts should still clear the sides of the gearbox.
All the sheet metal is .09 5052. Chassis is 28 x 27.6.
Gearboxes can drop out of the bottom, but you will have to take off two of the wheels one each side to undo the bolts.
All the dead axles are VEXpro tube stock. That means the VEXpro gears have to be drilled out to clear the axles.
I haven't added any patterns to lighten this yet, that won't happen till we know what is going to mount to it.