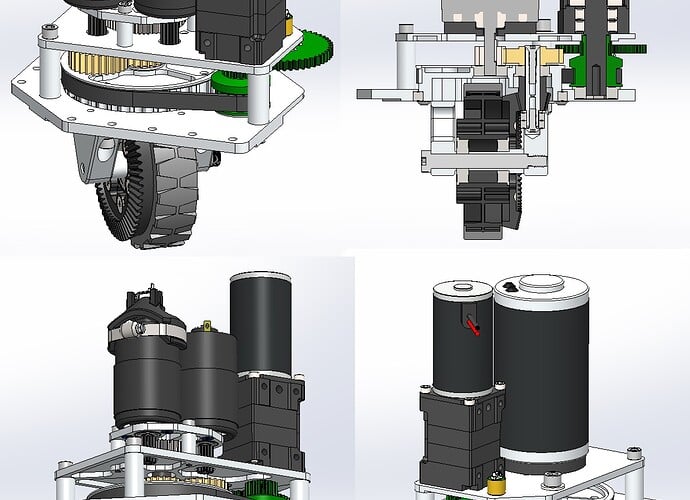 I wanted to share the swerve drive module that I have been working on. My goals with this design were to make it compact, easy to use, configurable, and hopefully tough enough to survive a FRC season.
It uses a 4in versa wheel and the gearing is at 8.6:1 for the CIM version and 28.9:1 for the 775Pro version. The ratios are easy to change using VexPro gears. The weight is currently at 7.81 pounds for the CIM version and 6.65 for the dual Pro version.
The 2 pulley/gear parts shown in green will be 3D printed, probably out of polycarbonate. The bevel gears are made using COTS gears that are available from SDP/SI. The main steering bearing supporting the rotating module is a 1/4" section Silverthin or Kaydon bearing. All of the custom machined or modified COTS parts are designed so they can be easily machined on a Tormach PCNC 440.
Lots of credit goes to Aren Hill for his swerve drive designs from which my design gets a lot of inspiration and borrows a lot of ideas.