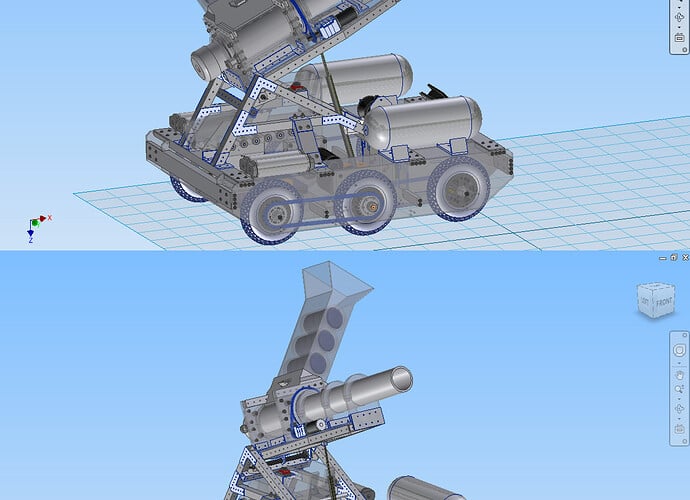 This is a work in progress concept of a T-Shirt Cannon robot I've been working on for the past few weeks. There's still a lot of details to add but I thought I would post what I had on CD to see what people thought of it.
General Specs: (So far)
6 pneumatic wheel drive (for off-carpet use)
Magazine-fed rotary loading system (eliminates stopping to reload)
Uses pre-packed t-shirt "shells", which are loaded through the magazine, and ejected from the bottom of the cannon after fired
Variable angle cannon (Range of ~2°-60°)
2-Stage air system - 2 Gallon Primary storage planned
2 Vlair 450C Air Compressors
Runs on 2 FRC batteries (not sure yet if it would run off of both in parallel or if one would power the robot and the other would power the compressors)
Currently weighs about 100lbs
Small enough to fit in the back of a typical minivan
Possible Future Additions:
Sonar or LIDAR rangefinding to prevent accidental firing at low angles if someone walks in front of the cannon
Electronically controlled pressure regulator
Camera tracking for targeting (angle, range, etc.)
Other types of ("safe") projectiles fired using foam sabots (various soft giveaway trinkets, candy, etc.)
For any of you who have worked on T-Shirt Cannons before, a few questions:
What type of release valve did you use (links would be great)?
How does the output bore size of the hose/connection going into the cannon affect the distance and efficiency (amount of air used per shot) of the cannon?
For a 3in ID barrel, what volume of air is required to fire effectively and at what pressure (I'm trying to find suitable storage tanks for the 2nd stage of the air system which is intended to be dumped completely for each shot, and then refilled by the primary storage tanks)?