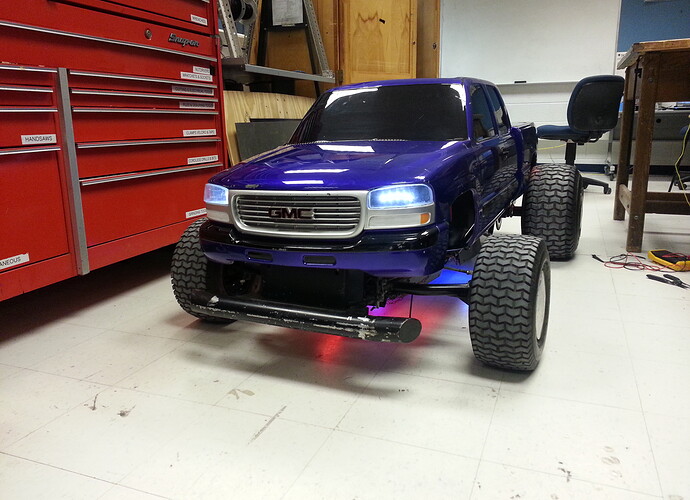 Some of you older mentors may remember this Go Cart from years past. It used to carry our robot to our matches (however, we can't use it anymore. Not only does it not fit through most doors, but it violates rule 4.13.3 of the Administrative manual; it has a fire truck siren inside). It runs off of 4 6 volt Golf Cart batteries wired in series. The drive motor runs off of 24 volts, and there is an additional 12 volt circuit to power lights and the siren.
It isn't in that great of shape; it could use a new paint job, and the batteries are old and corroding. We plan on completely overhauling it in the off season this year. There are different shells we plan on painting differently (shell meaning the body; there is a bed and cab section. The bed opens to reveal the electrical system, and the cab opens to allow the operator to get in); one blue and one red to represent the colors of the two schools we are associated with, one orange to use for demo purposes, and the other to possibly offer to the powder coating company we are sending it to for them to use as signage for their business. We would switch between the shells at different events (homecoming parades and demonstrations at sponsors).
It currently has underglow, and a couple other students and I installed led strips in the headlight places to use as, well, headlights. We also have orange and blue strobes I am currently designing a mount for to put on the roof of the vehicle to serve as a light bar.
Do any of you have any suggestions to offer for something cool to do to it? Any thoughts would be appreciated, and possibly used!