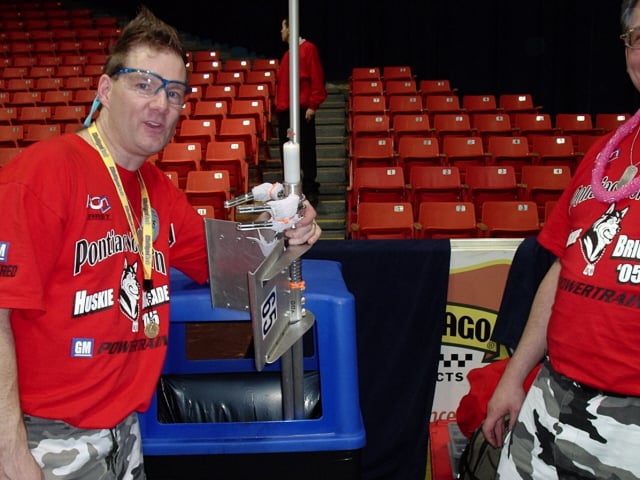 Ken Patton will be so mad at me for this…

Well, Bill the machinist made poor Ken do this… The gripper mechanism was something that he and a few other students and engineers made, and he was so proud of it, because it worked soo well, in a mechanical kind of way. It had interlocking claws controlled by a helix type movement, all pulled by a cable through the arm.
Very great and innovative idea, only it was too slow, and it wasn't strong enough to hold a tetra through vigorous competition.
On the Practice day of the Midwest Regional, one of the team members, Stevie, decided it was enough of the gripper mechanism, and wanted to ditch it, and replace it with a skewer. Ken was reluctant, but, on a vote from the team, decided to go ahead with it.
The skewer was built on Friday, and upon losing the second or third match of qualifications, the gripper was replaced.
The skewer proved the team watching in the stands that it was obviously better than the gripper. And it led us to get picked (Thank you soo much to teams 383 and 903 for picking us, it has been a wonderful alliance!!!), and led us to become regional finalist.
In this picture, poor Ken was saying something around the lines of
"No! This isn't right! Why!"
Poor gripper too… RIP Gripper…
One last thing too-
PH33r T3h M0hAWk!1111!1