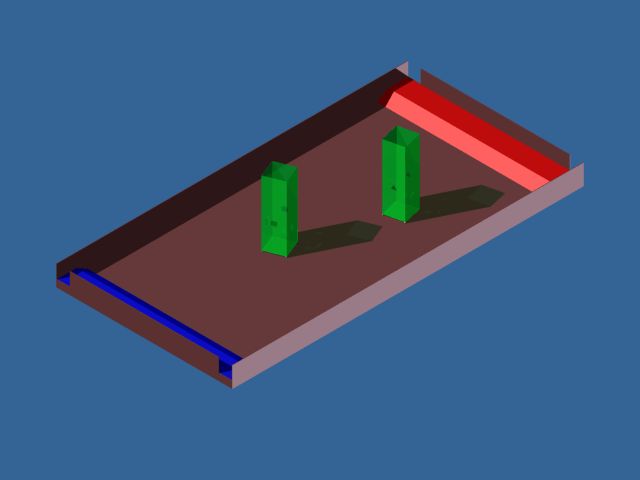 Here's how I envision the field. The game pieces are red & blue 8" cubes, red and blue 9" tetrahedrons, and 9" spheres. There are six collection places throughout the field - the four ball bins found at each corner, the tetra bin, and the cube bin. The tetra and cube bins are on casters and may move freely about the field. Each bin is 10' tall with an open top; they also have gamepiece-shaped openings at 36" and 48" high. Directly below the openings are IR-emitting lights, which may be used by the robots during autonomous mode.
SCORING: 3 points for each sphere scored; 5 points for each tetra/cube scored; 10-point bonus for winning autonomous mode; possible 2X multiplier*
GAMEPLAY: There is a 20-second autonomous period in which each robot may possess one gamepiece, and there are four "vision" gamepieces scattered about the field (2 cubes, 2 tetras). Next is the teleoperated period. The tetras and cubes are colored blue and red, and the alliances are scored accordingly. The spheres are random colors; they are scored by being placed in the proper alliance's bins, and may be reintroduced into gameplay by the human players.
*At the endgame, a 2X score multiplier is given for each collection bin placed on the alliance's platform.