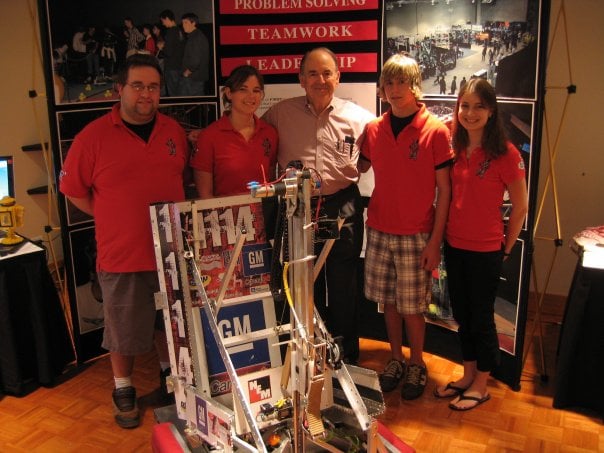 Team 1114 Students and Mentors meet John Abele.
On June 4th and 5th Team 1114 was handed the chance to be part of what we thought to be just a demonstration but that turned out to be so much more. Upon our arrival at the Kingbridge Center in King City, ON we discovered that we would not just be answering questions as we had originally figured, but would be helping an entire company (Maple Leaf, "Si6ma") of adults strategize, make incredible decisions, and along the way teach them to be graciously professional and to carry themselves with the spirit of FIRST.
A Vex Game was designed for the company to offer them a way of discovering the value of co-operating and gracious professionalism. The field offered the chance for 6 teams to play at once, each team with 6 members. The teams were forced to co-operate, strategize, play and listen to each other if they wanted to take home the gold, and many, many of them were inspired to do so. With a little leading from the members of our team that attended --and a lot of idea bouncing off of us-- many teams played successfully, producing some of the highest scores possible in the game. Our members at the event met many incredible people in our efforts there and were shocked by the kindness and gracious professionalism the individuals who attended were able to carry themselves with once given an example of how to do so. By the end of the day, the values that FIRST exposes to individuals were completely excepted by all those competing and it felt as if we were at a FIRST competition; the pressure was building, the co-operation skills were at peak, and gracious professionalism never left those competing. This is an environment I'm extremely proud to say our team was able to be a part of creating.
Perhaps the most amazing part of our two days in something unbelievably close to paradise was meeting John Abele. As fellow FIRSTers I'm sure you're well aware of whom he is, but a quick re-cap never hurt. John Abele is the Chairman of FIRST and coincidentally, the owner of the Kingbridge Center. I think meeting him not only put a smile on our faces, but a little hop in our step as well. Almost everything Mr. Abele said showed incredible values and his belief in the teams of FIRST, but one statement stuck out for a few member of our team, "There are two ways to compete, one is to drag your opponent down, the other is to raise the bar and excel. Which do you think is more beneficial to you in the long run?" This is a message that most teams in FIRST already heed, but that all should. FIRST is about gracious professionalism, and the latter of the two options shows true strength of character in a team. Mr. Abele's insight into FIRST and the business world is absolutely amazing and to any team who has the chance to meet him, I strongly suggest you do. John Abele may be the most inspiring person in the realm of FIRST.
Once again, way to go 1114. You guys are one of the best embodiments of gracious professionalism and teamwork. The people at that company learned from the best. Major kudos, and congrats on meeting Mr. Abele.
This looks so cool, I wish I could have been there! From the photos tagged of Jeff and Karthik on facebook, it looks like you guys had a great time teaching the little kids, then went onto a full out VEX competition!!! If nothing else, I'd like to see Karthik drive the robot!!