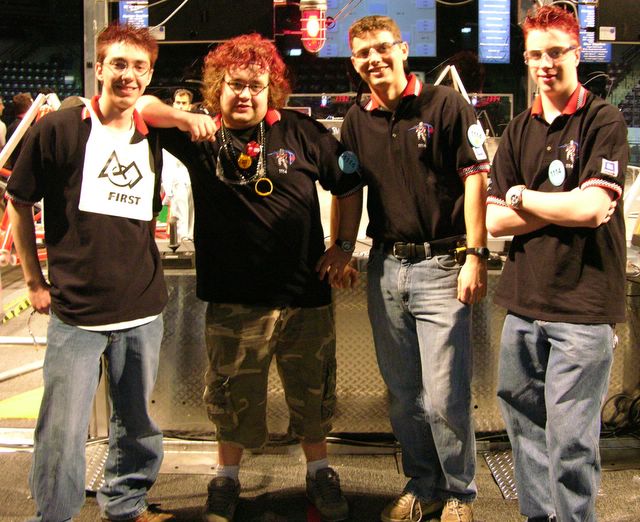 (L-R) Arm Controller Peter Diakow, Driver Jeff Beckett, Field Coach Derek Bessette & Human Player Stuart McGregor
You guys had some pretty big shoes to fill this year and all I can say is wow! Superb driving and coaching from all parts! Great job handling your machine at GTR and congrats on the win!
Hopefully we'll be seeing you on the same side of the field in Atlanta…

What a great team, and great group to work with. I have to say 1511 was thrilled to work with you guys(and 1305), and to make it all the way to Regional Champions!!
My only regret: that we didnt get a giant group photo of all three teams, or even of just the drive teams… it all seemed to go so fast, and before I knew it we were rushing off to pack up our pits and figure out how on earth we were shipping all that to atlanta…
But to the drive team, thanks for such a great time! We will see you in Atlanta!
Yeah that does suck that we didn't get a big picture of all three teams. Maybe we could do one in Atlanta. Also does anyone have a picture of Jeff on the forklift? Man does he have energy.
Our three teams should definitely get together for some photos and fun in Atlanta, we'll put something together. As for the picture of Jeff on the forklift, I know that someone on our team got the shot. As soon as I get my hands on it, I'll be sure to upload it. Jeff's a Simbot, it runs in our family.

I am sure that our team would love to do something together. Just let me know when you get more information.
Nice picture. I could clearly see the difference in your robot performance from Waterloo to Hershey. I just love the way your robot moves it's arm and overall it was very precise in capping at GTR. Then again, all your team's arm's are a work of art

Congrats on the win! Well deserved