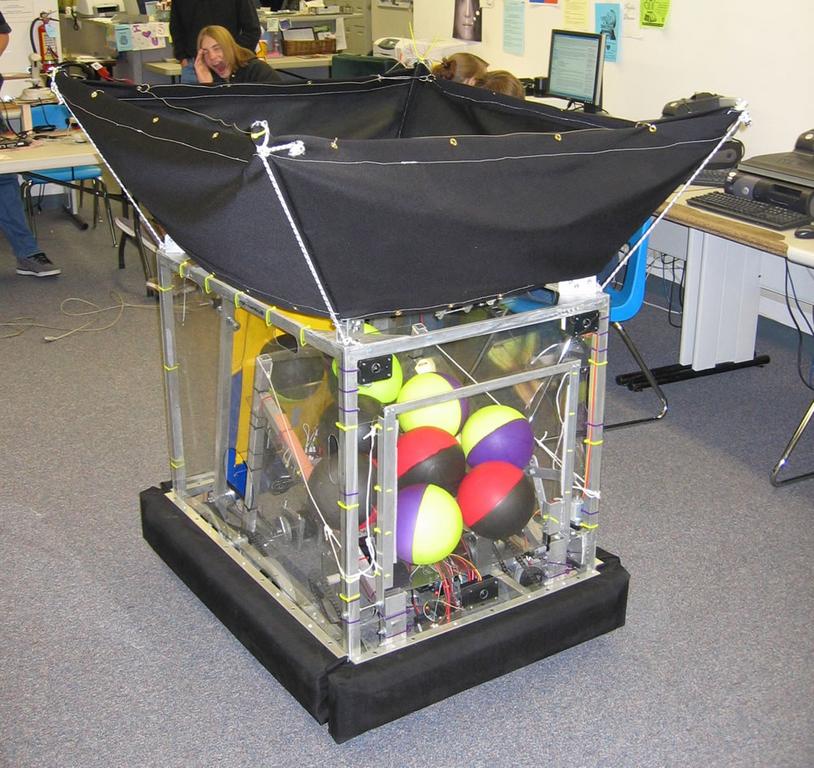 Well. Not even 8pm on Monday night, the robot was crated up and waiting for FedEx. How does it work? Simple.
Conveyor belt in the back picks up balls and drops them into the hopper. Total capacity … at least 20. In the picture, theres 10. Once loaded, the driver gets within 6ft of the goal, lines up and hits a button on the controller. Then the ultrasonic sensors take over and position the robot perfectly for a dump into the goal (this takes about a seconds … if that). Once in the right spot, the door drops down and unloads into the goal. Balls can be shot into the "wings" above for human loading. The robot does NOT shoot. The frame is by far, the sturdiest thing we have ever built. All aluminum is 1/8" wall. 6wd with pneumatic wheels. 4 CIM drive, so theres plenty of power at the wheels with a good amount of traction. The robot is capable of spinning in place. Theres about 4 different auton programs, some offensive, and others defensive. The bot has NO problem getting up the ramp either.
To see it in action, open the video linked below. Feel free to ask any questions.