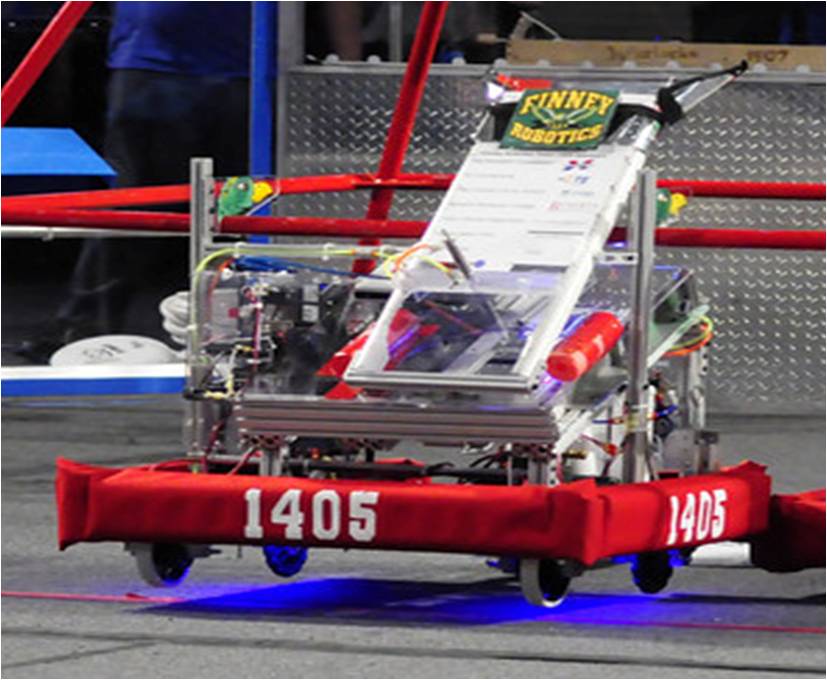 Team 1405's entry for Ultimate Ascent, dubbed "Mr.Roboto" (though I refuse to call it that)
The captain robot of the #3 and winning alliance at The Finger Lakes Regional!
Drives: 4 wheel, back traction, front omni. 1 CIM per side run through Toughbox Minis.
Shooter: 2 6" Pneumatic wheels direct driven by CIMs, pneumatic piston fires discs into the wheels. Angle optimized for shooter from the back corner of the pyramids or the center of the back bar.
Loader: Chute set up to accept discs from the middle feeder station slot. Small pneumatic piston holds 2 in the chute before loading them into our shooter chamber.
Hanger: Simple lexan slides lift the robot off the ground as it drives into the bottom bar of the pyramid. Also useful for lining up shots from the back of the bar. Allowed us to hang in all but 1 match at FLR.
Other:
Blue underglow
Rainbow LED strip inside shooter
CNC Engraves sponsor plate on front of robot
Falcon heads on lexan hangers, hand drawn by a talented student on the team