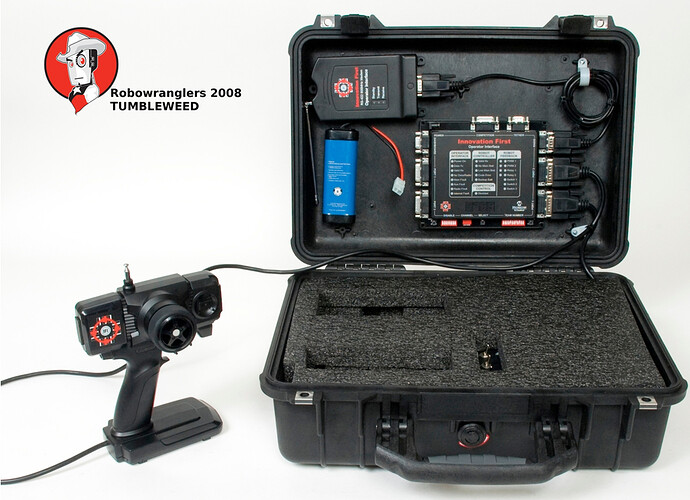 This is our control box for the 2008 season. The Pistol-Grip controller is a modified Futaba RC Transmitter.
Sweet controller set-up. Good use of Futaba R/C car controller
What is the 6 cell sub-c battery pack used for?
You aren't powering the R/C controller with that are you


Good luck this year.
That looks vaguely familiar, somehow!
(but why does the futaba controller still have an antenna in it?)
Well, it looks cool and it can be used poke the pit crew while they work on the bot.

what model remote is that, the model that uses 10k pots? i opened mine up several months ago but didn't do that because it had 1kpots.
Hmm, it would seem that a simple joystick would have been more intuitive for a swerve drive, that is unless you drive like 16…
If you've never driven anything with an RC car controller, you really need to try it! Also, 1726 got the Rockwell Automation Innovation in Control award at LA because we used that Futaba controller with a 6wd skid steer robot.
aye,i have never used that type of controller, nor am i on their team (and it seemed to work for them, they won a regional with it), but i did design an award winning controller last year. just my humble opinion, but a omni directional drive moves a lot differently than a akerman or tank drivetrain (such as on an rc car or 6 w robot). the robot can suddenly change direction, moving 90 degrees without changing the actual orientation, having that controlled by an omnidirectional interface seems to be a lot more intuitive. imo
I still feel bad for 148's second driver. It's more like a ticket for a front row seat to the action!