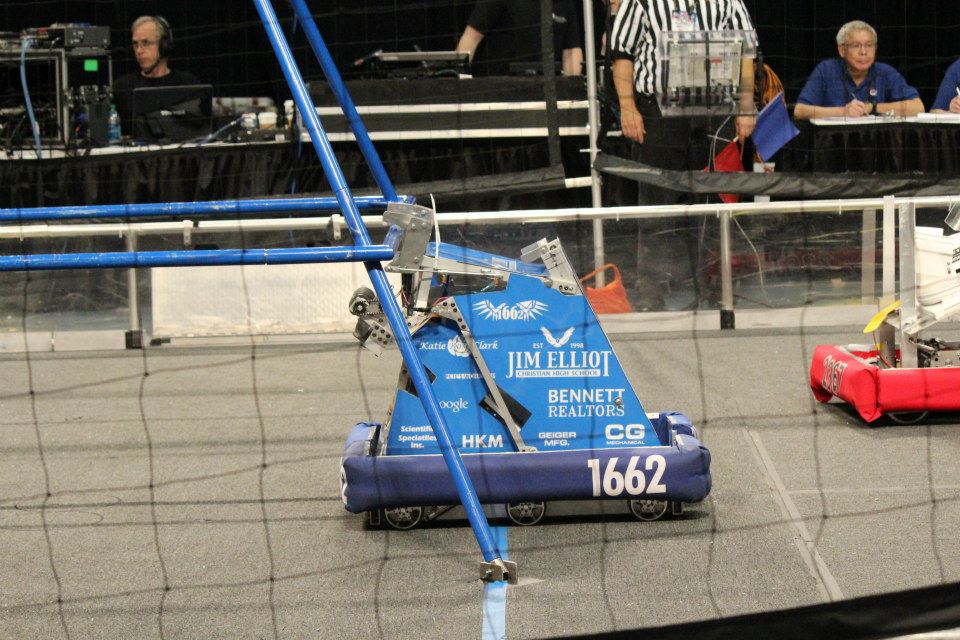 Here is a picture of Probota lining up to shoot at the Sacramento Regional. I'm unbelievably proud of what these students have accomplished. They've quickly become a powerhouse and created an unbelievable machine for this year's challenge.
Specs:
-6 Wheel WCD
-VexPro Shifters
-Floor pickup with Team 67 inspired drop down arm
-Arm raises to be at lowest feeder slot level for fast feeder loading
-Bucket hopper, nuff said
-6" performance wheel linear shooter powered by two Banebot 550's through a CIMulator
-"Bullhorns" in the front line the robot up for consistent and accurate shooting from the back of the pyramid
-Simple, pneumatic 10pt hang
-Final weight with bumpers and battery: 113 pounds
-Undefeated in Quals at Sacremento (11-0-0)
-Quarterfinalists at Sacramento
-OPR at Sacramento: 55.0 (21st in the World)
-Video of 5 disc auto: http://youtu.be/8DFSs4ZjfIs
-Video of Sacramento High Score: http://youtu.be/RAcXcBI4h4k
We are pumped for SVR in a few weeks!
-Mike