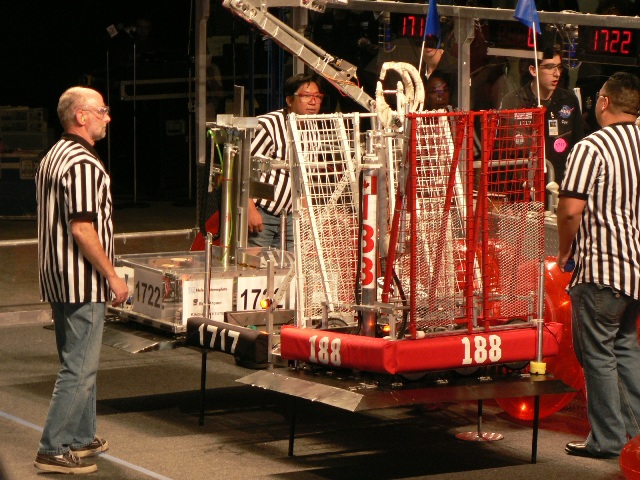 Haha, I'm not sure, but I think this was the match when one ref started to check the height of the lift, and another ref waved him off, knowing it was already well above 12"
This is a really cool picture. Do you have any videos of the lift?
Yeah, we tried to take as much video as possible. This week we're going to compile all the lifting videos into 15-20 short segments.
It'll be on youtube soon hopefully.
Please be sure to post it somewhere when you do, I would love to see it.
Thanks to 1717 for their great bot! We (294, 368 & 1717) were only one win away from taking the SD regional. Props to 330 and their nearly perfect record for the weekend!
Wow. Now that's impressive. Great job, you guys.
Haha, we wish we got 90 points! Unfortunately, we have four gas springs touching the ground so it doesn't count. But people throughout the competitions asked us if we get extra points for lifting out own robot.
Even though it is heavier, to lift all three robots at the same time makes it easier because you need no vertical bearings… the panels just fall, lock into place, and lift.
Thanks to 294! You guys played superb derfens when your arm broke - you were an invaluable alliance partner. I second that props to 33 and their NEARLY perfect record - keyword: nearly

Great job guys.
As for the 90 points, we wish! Like Ross said before me, the 4 gas springs are the only things touching the ground but that still counts. But ya, this was the match when the ref came over to measure, as you can see the foot of the measuring stick under the front panel, and te other ref just waved him off! It was def one of the best moments of the year by far

As for those videos, we're trying to get them cut and compiled as fast as we can and we'll put them up everywhere. We should have footage of our robot lifting about 20 others (not to mention lifting 18 robots in 10 qualifying matches in SD) in action and countless other practice lifts. So keep your eyes open - they're comin'