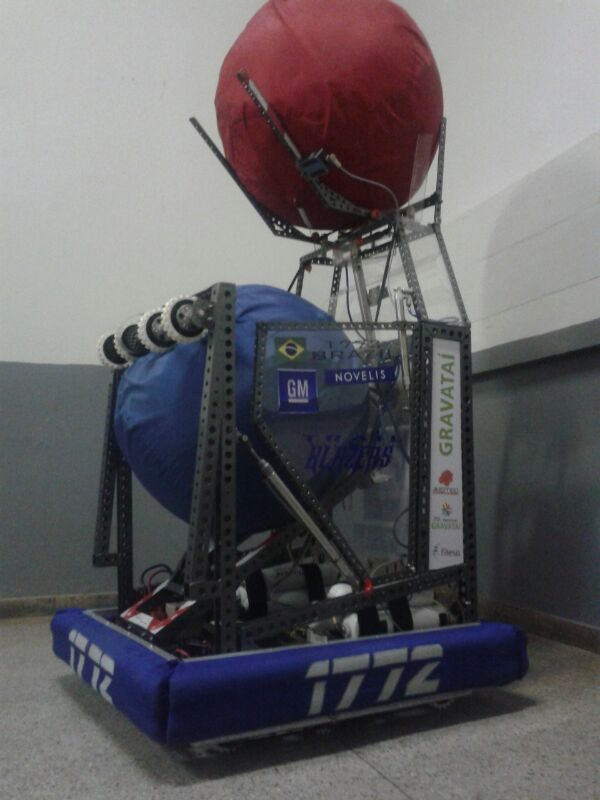 http://www.youtube.com/watch?v=CprqQASl-SI&feature=youtu.be
http://www.youtube.com/watch?v=B5r4vUt0LjQ&feature=youtu.be
http://www.youtube.com/watch?v=XMbN75fmWq4&feature=youtu.be
Such innovation. Very Excited. WOW.
Edit. The Palmetto Regional should be scared now.
I love the self catch over the truss, as long as no one is defending you it should be an easy 10 points each cycle.
BEST NAME EVER! Nice machine, 1772! Good Luck!
Yes, This works automatically regardless of position … the best of this system is to allow an easy pass (catch)when another robot touch our bumpers.
Cool design! I'm curious about the double shooter/manipulators. Is there a way that you move the ball from the lower catapult to the upper manipulator? Are you planning on inbounding the ball to that upper part?
Yes we can put the ball there (but not easily, and not usually), and yes we are planning to inbounding the ball on the upper system

Thank you and good luck in NYC!
Nice to see another cool offering from from 1772. I'm sure 79 is looking forward to playing with you guys again

Best of luck.
Thanks, 79 with Brazilians partners made great results last year

Looks great guys - best of luck at your events this year! Hopefully both our teams will qualify for CMP and I'll actually be able to attend this year…
I still wear my 1772 shirt with pride!