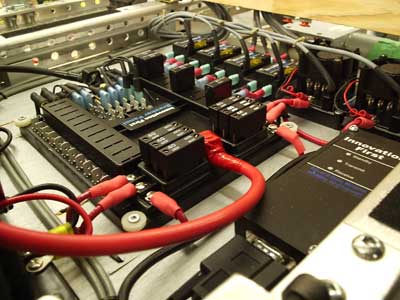 The bottom level of our 2005 Electronics Board.
As promised here.
Comments, suggestions, criticism welcome!
-SlimBoJones…
Gorgeous! I'm afraid my layout will not be as pretty as yours.
That is a very organized layout. It looks like everything is going to be very easy to get to. I hope ours is like that!
Very nice Job!
How long did it take you to do that anyways?
In a word… WOW!
We will be showcasing our board int a few days, and i must say, your board puts ours to shame, even if ours is best that we've ever done.
Hey Alex!
We started our prototype board two weeks ago, and started construction on the actual boards about a week ago. We usually had 2-3 people working on it at any given time. The most time consuming part was crimping all of the PWM connectors, and testing them.
-SlimBoJones…
Wow I love your board!! It looks like it will be easy to use at comp especially without all the wires all over the place. Our captain last year Rachel did some really nice work similar to a board like yours last year. Keep up the good work!!