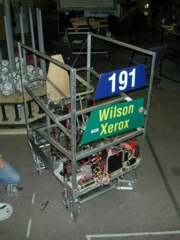 Here's quick shot of the 2002 X-CAT Robot X-Caliper.
It Acquires & stores balls,
Grabs one goal from behind,
Shoots balls from attached goal or goals up to ~15 ft. away
Drives: Very Fast and maneuverable with 4 wheel drive/steering (But with enough torque to handle 2 goals)
Good luck to you all from our Team to yours!
Ellery Wong
Go X-CATS!!!