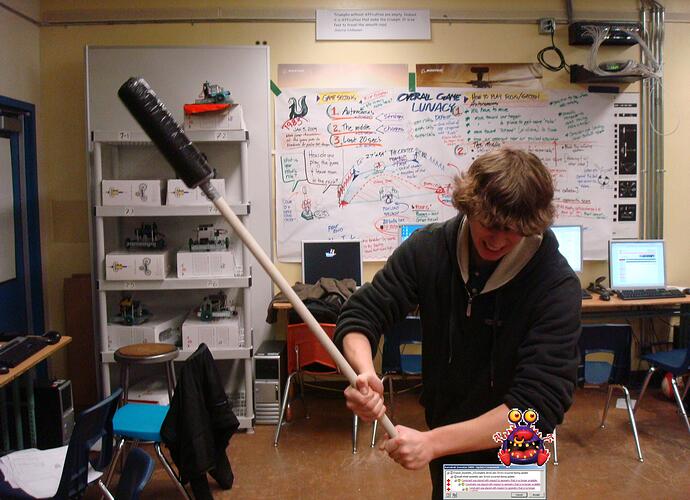 The Legend of Dave the CADder
Have you heard the legend of FRC?
Many years ago it was told to me…
Following below is the legend of old,
This is how it's told:
As I recount the legend to you,
Bear in mind this story is mostly true…
There once was a wee little lad,
Who happened to enjoy CAD
Our story starts long long ago, in a galaxy not too far away,
This is where our character is born and where he'll stay
The name of Dave,
His parents gave…
He joined Aviation High School,
While working at the pool
When team 1983 was created,
To join, he was fated
In his final year,
He took a new challenge without fear
He began to learn CAD,
That little lad…
It came the day for Dave's mentor Ken to make a confession,
Dave's skills were growing in rapid succession
The 2009 FRC season then began,
The CAD skills were soon to be tested of this young man
Coach Steele then proclaimed,
As CAD leader Dave was to be famed
He worked hard throughout the season,
Combatting constraints with logic and reason
The CAD deadline quickly approached,
For which Ken had him strongly coached
The day was here!
Dave could smell a constraint demon near
It leaped and bound and dove for Dave's model
He quickly drained his NOS bottle
Dave tossed the CAD stick into his right hand
The demon roared; "I'm the mightiest in the land!"
Dave did not fear, Ken's voice flowed through his head,
"No not the arms, get the head instead"
The demon misplaced a swerve module and lunged at the CADder
Well, that CADder, he got madder
With all of his might,
Dave continued to fight
He backed the demon against the wall,
It soon began to stumble and fall
At that point, Dave constrained the demon to the floor,
It begged mercy for no more
He wouldn't stop, he motion constrained the stick to it's head,
He vowed to stop, only when it was dead
After cross sectioning and quarter sectioning the beast,
It's life ceased
The demon had failed,
Dave prevailed!
His CAD legacy is still alive,
To fill his shoes, his mentees Navid and Austin will continue to strive
The robots Dave drove,
All became treasure troves
He won many regionals as a driver,
So yes, from FIRST he was a survivor
So that is how the story goes, Dave is now enrolled for WPI,
If you're lucky, you'll see him at Battle Cry
To his FIRST team, he'll always be true,
And to Dave: Skunkworks will never forget you
…
Navid Shafa
Team 1983 Skunkworks Robotics
Hoping to fill the void you'll be leaving,
And wishing you luck in college!