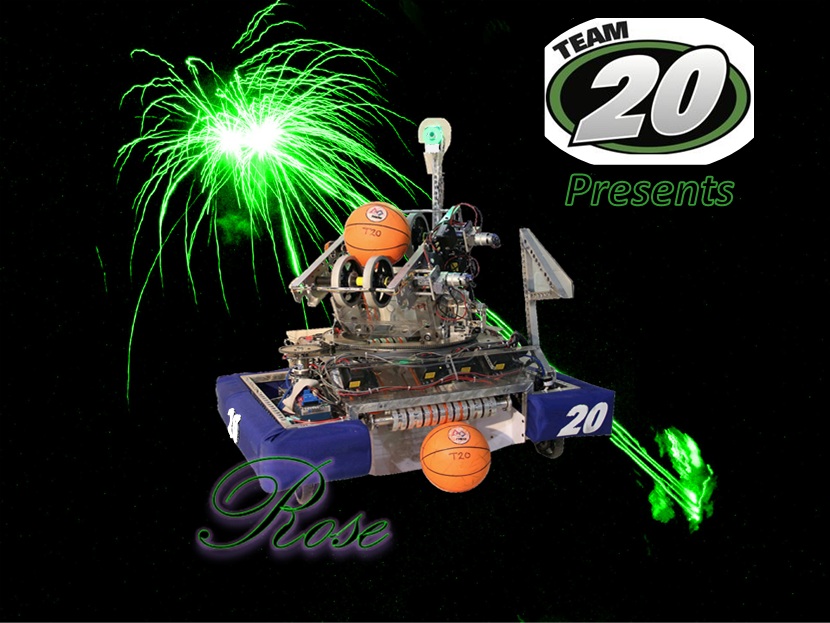 Team 20 would like to introduce our newest Rocketeer! This robot is named "Rose" after one of our respected Mentors.
Features:
Drive: Wide Base 4WD Tank drive with 2012 6" kit wheels. 4 CIMs geared for 11.5 fps.
Collector: Double-sided 21" wide polycord collector system, capable of storing up to 3 balls. Powered by 2 FP motors on 16:1 planetary reduction. Picks up balls at any speed.
Shooter: 2 axles with 4 6" inch wheels powered by 2 BB RS550s and CIM-U-LATORs. 180 degree turret and 45 degree to 90 degree tilt both powered by AM PG71 Gear Motors. Ball delivered to shooter wheels by 2 more polycord rollers with AM 9012 motors also on 16:1 planetary reduction. Balls go from the floor to the shooter in about half a second. It was at 60% accuracy shooting into the top basket. We anticipate more tuning will improve this figure.
Targeting: Axis camera works from all the way across the field and filters green light from the LED ring around the camera lens.
Bridge Tipper:
As pictured it is powered by pneumatics, but we have determined that a Window Motor will both save weight and offer an easier locking mechanism in itself rather than needing another mechanism for that. We will be changing that on Thursday at the regional after testing on our practice chassis and completely removing all pneumatic systems. We can drive into the bridge with speed and lower it.
We will be competing at the BAE Granite State Regional, Connecticut Regional, and at the Championship in St. Louis.
We would like to thank our many sponsors for making our season a success so far! Thank you to Advanced Manufacturing Techniques, BAE Systems, General Electric, Global Foundries, TCT Federal Credit Union, Rensselaer Polytechnic Institute, and Shenendehowa High School!
Good luck to all and see you at the competitions!