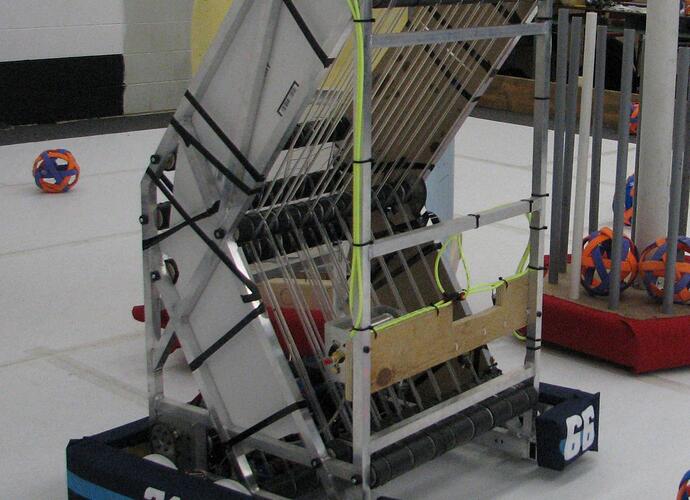 Team 2166 presents Bluebot Kirby
Video:
http://vimeo.com/3331402
We chose to follow our simplicity trend again this year. The pick-up and dump mechanism is comprised of 2 conveyor belts and 9 rollers. Each conveyor is driven by a CIM. We use a 'hood' at the top to contain the balls which is controlled by pneumatics. We are able cram 23 balls in the conveyors, but 15-18 is a more realistic fit. We can 'shoot' the balls about 1-2 ft. The cardboard guides and electrical tape will be replaced with lexan.
We visited 1114s shop the third weekend to pick up some parts they machined for us with nothing more than a design for our drive train. They helped us get the ball rolling by providing us with a solid concept design. The robot was quickly designed, modeled and built in the following 3 weeks. Aside from welding, our robot was entirely built in 1114s shop during the 5th and 6th weekend. The students on 1114 were always there to lend a helping hand, which was a huge help given the limited number 2166 students able to attend. The Simbots taught the students on 2166 how to use several of their machines and also provided a hand completing our bot when needed .
Team 2166 cant thank Simbotics enough for all their help this year. I cant imagine what our robot would be without your help. Karthik, I am absolutely amazed by the organization in your team. Your students are all extremely motivated and talented. Its no wonder you guys have such great success.