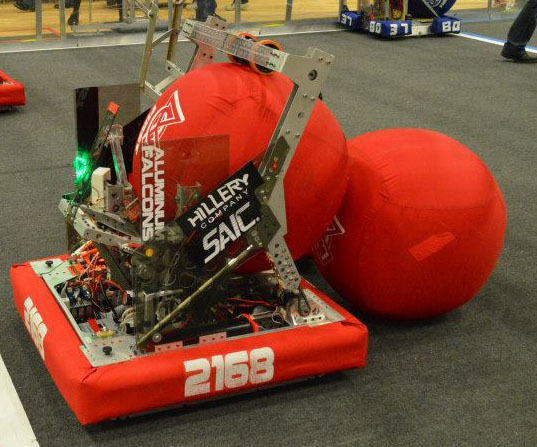 Looks like another killer machine! Care to share some specs?
You guys built another killer machine this year, it's especially amazing after hearing some of the setbacks and lost build time you guys encountered due to the weather this year. You guys had a great performance at Groton and an absolutely stellar performance at Rhode Island, you guys will no doubt be one of the top competitors at Boston and I can't wait to see any changes you may have made to your robot then.
Drivetrain
28 x 27.5" Custom Parallel Plate Sheet Metal Chassis
8WD, Spread Center, 3" Colson Wheel, HDT Belt Drive w/custom hubs
3CIM Custom Single Speed Transmissions
Free Speed of 12.9 ft/s
Catapult
Spring Loaded Catapult w 3/ position adjustable pneumatic "tusk" for strategic shot locations w/pneumatic release
Seven 7.68lb/in springs stretched from 7 " to 13.75".
Catapult winch uses two 550 Bane Bot motors through two 50:1 Vex Pro Planetary Gearboxes on a 2" diameter spindle for a draw down time of approximately 1.1s
Intake
Pneumatically actuated "goose neck" intake with strategically placed impact resistant poly-carbonate throughout and 1/8" sheet metal to provide flex and withstand impact.
Powered by two 775-18 Bane Bots through 10:1 Vex Pro Planetary Gearboxes driving nested chain to 3.78" diameter bane bots (and at Groton 4" Mecanums… they'll be making a comeback :-)).
Incorporates servo actuated poly-carbonate fingers to support 2 ball auto and firing on the move.
Robot Weight: 119lbs
How do you like that lexan tubing? I noticed you appear to be using two 1"x1" square tubes. What is the wall thickness? Is 1"x2" just not an option? I do like the lightweight and flexbility…did you try and impact testing to see how much it would actually take to damage a tube beyond repair?
Tom,
We puchased the polycarb tube from McMaster. The wall thickness is .080" for the 1 x 1 (3161T31) we used, if you purchase 3/4 x 3/4 you can get 1/16" wall. We searched a number of places trying to find 2 x 1 but couldnt seem to locate anything other than 2 x 1 PVC. I would be overjoyed if there was a supplier for 2 x 1.
We never hammered on it, but it has been run into many times, and simply flexed and sustained scratches. The way we looked at it, is for the weight savings we would rather have one flex and/or break rather than have an aluminum one bend and bend other pieces of the intake with it. Its hard to see from the picture but we also have 1/4" poly carb plates as pivot point for our intake. These plates are nested inside the rather "beefy" pivot blocks. The end result is that the 1/4" poly plate combined with the 1 x 1 poly tube allows our intake to mantaine sufficent rigidity while collecting and traveling but flexs on impact with the wall or other other robots.
Another stellar job by 2168. As usual, our designs share similar attributes and techniques. You know what they say about great minds…
It's been a fun year already playing with you guys in Groton and against you in the Finals of RI. Our entire team was blown away by how much you guys turned it on by the end of quals at RIDE. You were on fire and carried that momentum right through into elims.
I'm stoked to see both our teams up at the 90 point mark after a tough Groton competition. That should comfortably put us both at BU in a couple of weeks!
-Brando
Thanks Josh. I plan on looking into that for DCMP. All these are simple replacements that can be made prior to the event and replaced quickly on the fly. The tubing across the top might be the solution for what I've found to be the biggest problem: shock loading up the gears when running into wall/1pt goal/robots. Being on the omni wheels, haven't see much need for the side-side sway, but I'm also looking at a lexan attachment point…either 1/4" lexan or starting with 2x1 aluminum tubing and sandwiching it with 1/16" lexan (sort of like what 67 does this year).
Wow, really nice machine out of 2168 again. I love the polycarbonate tubing, I hadn't heard of it before just now but I really want to try out using it at some point. Overall, just a really cool robot all around.
Hey guys, I just wanted to say it was awesome facing you guys in the finals at RI and just how crazy you guys were with a 2 ball auto like us. Don't see it too often that a 2 ball auto works as well as our's, your's, and 1519's did so I especially hope to see you guys again at the District Championship in Boston a few weeks from now. Great job guys! #ITTAKES2:cool: