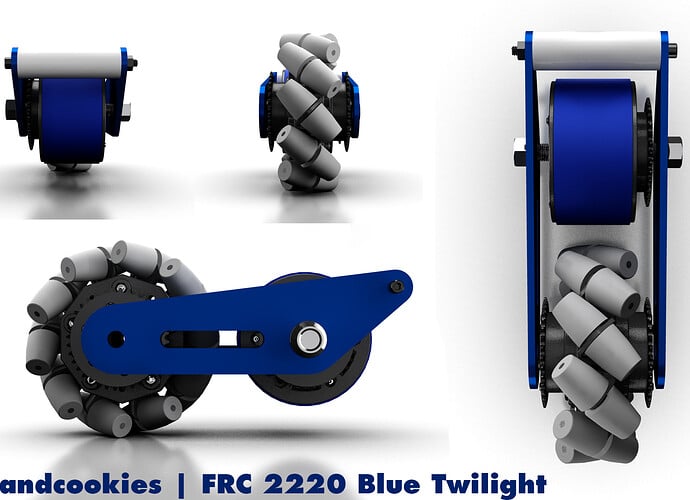 As an offseason project, my team has been working on creating a new showbot/electronics test platform. We have settled on creating an octocanum drivetrain for this robot for both the experience of designing a drivetrain outside of our norm (we've done a kitbot-style 6wd just about every year since we started), but also for the "wow" factor when we're showing sponsors or for school assemblies.
This is our version two of the actual octocanum module, rendered in with Creo's built in tool and combined in Photoshop. The plates are 3/16" aluminum, and it uses VexPro mecanum and traction wheels. All axles are dead, and it's powered off of a gearbox above the frame to the sprockets on the module. We plan to articulate the drive "Neutrino-style," or, barring that, using the more "traditional" method of attaching the piston to the bar (using a combination of channel and angle stock).
The module is designed to be dropped into a 5" wide channel, sandwiched between two pieces of 3x1 1/8" wall 6061-aluminum tube stock. The top side of the module wall is parallel to the tube stock.
Feedback, critique, and comments are welcome. We're aiming for production around the end of July, with assembly and powdercoating taking place in August.